Keto Croissants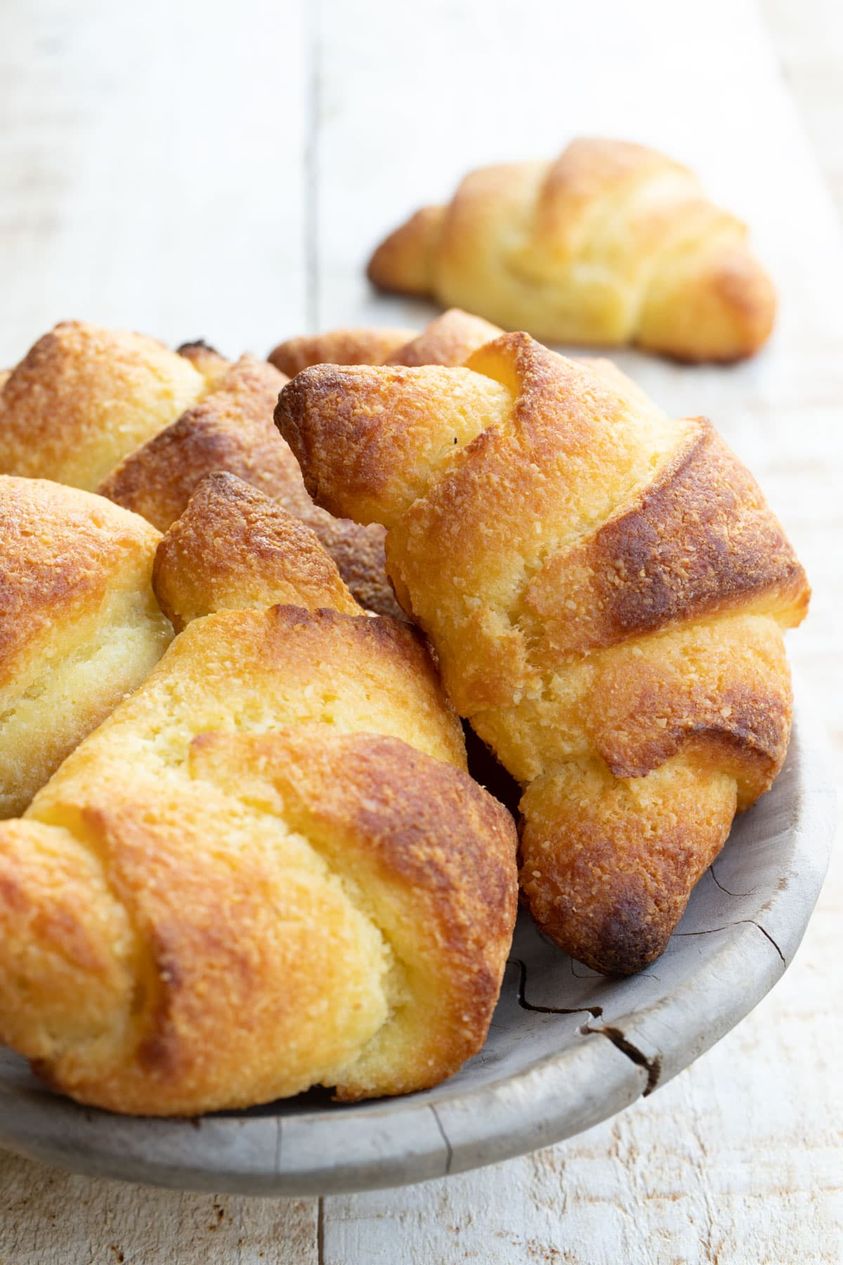 Keto croissants are delightfully soft and fluffy gluten-free and low carb pastries. They contain only 3g net carbs and are ready in 30 minutes!
INGREDIENTS
1.5

 

cup

 

mozzarella, shredded

 

170g / 6oz

2

 

tablespoons

 

cream cheese

 

full fat, 30g

1

 

egg

 

large, whisked, room temperature

½

 

cup

 

almond flour

 

ground almonds, 50g, use 1 tablespoon less for super-fine almond flour

2

 

tablespoon

 

coconut flour

 

level, 16g

2

 

tablespoon

 

powdered sweetener

 

I used Bocha Sweet

1.5

 

tsp 

baking powder

½

 

teaspoon

 

dried active yeast 

optional, for flavour

1

 

tablespoon

 

butter

 

melted, for brushing the tops (optional)
INSTRUCTIONS
Preheat the oven to 180C / 350F electric or 160C / 320F fan assisted. Line a baking sheet with parchment paper.

Melt the mozzarella and cream cheese in a microwave for around 1 minute. Or, heat in a non-stick saucepan over a low heat. The cheese should be melted, but not bubbling.

In a separate bowl, combine the dry ingredients: almond flour, coconut flour, baking powder, powdered sweetener and dry active yeast, if using.

Add the dry to the wet ingredients and add the egg. Start to combine using a fork, then use your hands to make a ball of smooth dough.
Roll out the dough into a rectangle between two sheets of parchment paper, about ¼ inch or 5 mm thick. Fold over the edges of the parchment to create a straight line. Lift the top parchment.

Cut into 3 rectangles, then cut into 6 long triangles.

Re-roll each triangle so it is evenly shaped and around 19 centimeters long. Again, I like to fold the edges of the parchment paper to shape the dough. Then, roll up into a crescent shape. Place on a baking sheet lined with parchment paper. Option to brush with melted butter.

Bake in the oven for 20 minutes or until golden and puffed. Once the croissants are golden brown (after 13-14 minutes), loosely place aluminum paper over them for the remainder of the oven time. This prevents them from over-browning.
Free Keto Meal Plan: KETO DIET PLAN FOR BEGINNERS STEP BY STEP GUIDE
NOTES
3.1g net carbs per croissant. Makes 6 croissants.
Please note – as we are not using wheat, keto croissants do not taste exactly like traditional croissants. But they do taste yummy and I think they are a fun alternative.
If the dough cools, it can become difficult to work with. Warm it in the microwave for 10 seconds or until it softens.
Fathead dough can be a little sticky. Working with it can be easier if you lightly oil your hands.
Option to fill with sugar-free Nutella or marzipan.
Instead of rolling the dough into a rectangle, you could also roll it into a circle and cut it like a pizza. This occurred to me after I sliced and rolled mine as described above. It may be a little quicker.
Store in the fridge for up to 5 days. Gently re-warm before eating. Option to freeze for up to 3 months.
Note: You cannot use the white mozzarella balls that are used in salads. The mozzarella has to be firm, light yellow and shredded.
NUTRITION
Calories: 
169
kcal
Total Carbohydrates: 
4.5
g
Protein: 
10.5
g
Fat: 
12.6
g
Saturated Fat: 
5.1
g
Fiber: 
1.4
g
Sugar: 
1.3
g
---
---