Stuffed Cheddar Bay Biscuits with Lemon Butter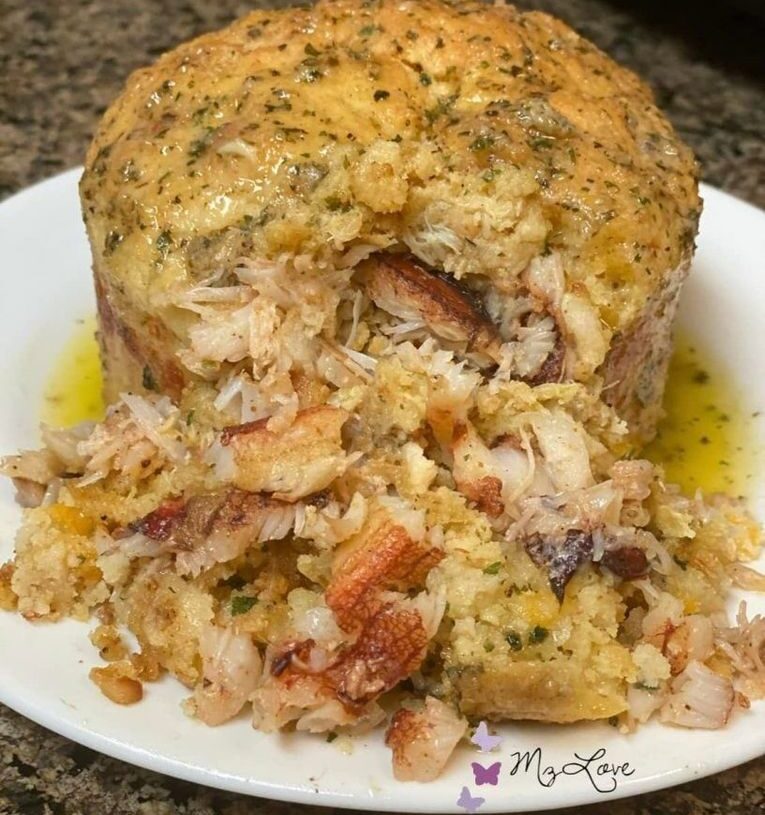 FREE MEAL PLAN : KETO DIET PLAN FOR BEGINNERS STEP BY STEP GUIDE
Ingredients:
For the Biscuits:
1 package Keto Cheddar Bay Biscuit Mix (you can find low-carb baking mixes online or at specialty stores)
1 tsp garlic powder
1 tsp Italian seasoning
1/4 cup almond flour (for dusting)
Nonstick cooking spray
For the Crab Filling:
1 pound lump crab meat (fully cooked)
1/4 tsp paprika
1/2 tsp onion powder
1/2 cup mayonnaise (choose a keto-friendly brand)
1 tbsp Dijon mustard
1/2 cup crushed pork rinds (as a substitute for Ritz crackers)
1 cup grated parmesan cheese
For the Lemon Butter Topping:
2 tbsp unsalted butter (or a keto-friendly alternative)
1 tsp fresh lemon juice
Nutrition Information (per serving, makes approximately 12 servings):
Calories: 240
Total Fat: 17g
Total Carbohydrates: 3g
Dietary Fiber: 1g
Net Carbs: 2g
Protein: 17g
Instructions:
Preheat the oven to 375°F and grease two muffin tins with nonstick cooking spray.
In a bowl, combine the crab meat, paprika, onion powder, Dijon mustard, mayonnaise, and crushed pork rinds. Stir to combine well. If needed, add a touch more mayonnaise for the right consistency.
Make the keto cheddar bay biscuit mix according to the package directions, then set it aside.
Dust your hands with almond flour to prevent sticking, and scoop out some biscuit mix to form a cup-like biscuit.
Place a scoop of the crab mixture into the center of the biscuit.
Cover the crab mixture with a little more biscuit dough, sealing the edges to form a stuffed biscuit.
Continue this process until you've used all the dough, and place each stuffed biscuit into the greased muffin tray.
Bake for 12 to 15 minutes, or until the biscuits are golden brown and cooked through.
While the biscuits are baking, melt the butter in a small saucepan and mix it with 1 tsp of fresh lemon juice to create the lemon butter topping.
Once the biscuits are done, remove them from the oven and immediately brush the tops with the lemon butter mixture.
Serve warm and enjoy your Keto Crab Stuffed Cheddar Bay Biscuits with Lemon Butter, with only 2g net carbs per serving.
FREE MEAL PLAN : KETO DIET PLAN FOR BEGINNERS STEP BY STEP GUIDE
---
---