Loaded Zucchini Bake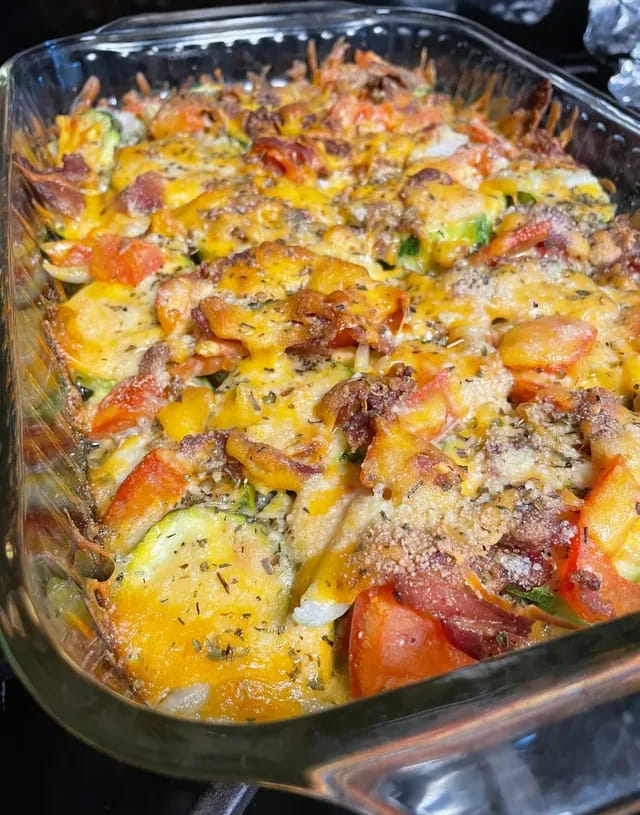 Free Keto Meal Plan: KETO DIET PLAN FOR BEGINNERS STEP BY STEP GUIDE
Ingredients
3-4 Medium-sized zucchini
2 Tomatoes
1/2 White onion
Bacon
1 Block sharp cheddar cheese (shredded)
Grated parmesan cheese
Olive oil
1/2 stick of butter
Salt and pepper
Garlic powder
Oregano
Free Keto Meal Plan: KETO DIET PLAN FOR BEGINNERS STEP BY STEP GUIDE
Directions
Preheat oven to 350 degrees F.
On low heat, begin cooking bacon in skillet. Nearly a whole pack of bacon will be used (I had only 3 pieces leftover).
Slice the zucchini, onion, and tomato.
In a 9×13 baking dish, evenly layer zucchini until bottom of dish is covered.
Drizzle zucchini with a touch of olive oil and season with salt, pepper, and garlic powder.
Place several pats of butter (4-5) on top of zucchini.
Next layer with 1/4 sliced onion; then layer with one sliced tomato.
Once bacon is fully cooked; crumble.
Add a layer of crumbled bacon on top of the vegetable layers.
Next, sprinkle bacon with an even layer of shredded sharp cheddar cheese. I shredded mine fresh directly on the dish.
Complete same layers as listed once more.
Top the final layer of shredded sharp cheddar cheese with grated parmesan cheese.
Sprinkle with oregano.
Cover with foil and bake for 15-20 minutes. Remove foil and bake an additional 15 minutes or until vegetables are tender and cheese is golden brown.
Enjoy as a main dish or side dish.
Free Keto Meal Plan: KETO DIET PLAN FOR BEGINNERS STEP BY STEP GUIDE
---
---