Keto Tiramisu Chaffle Cake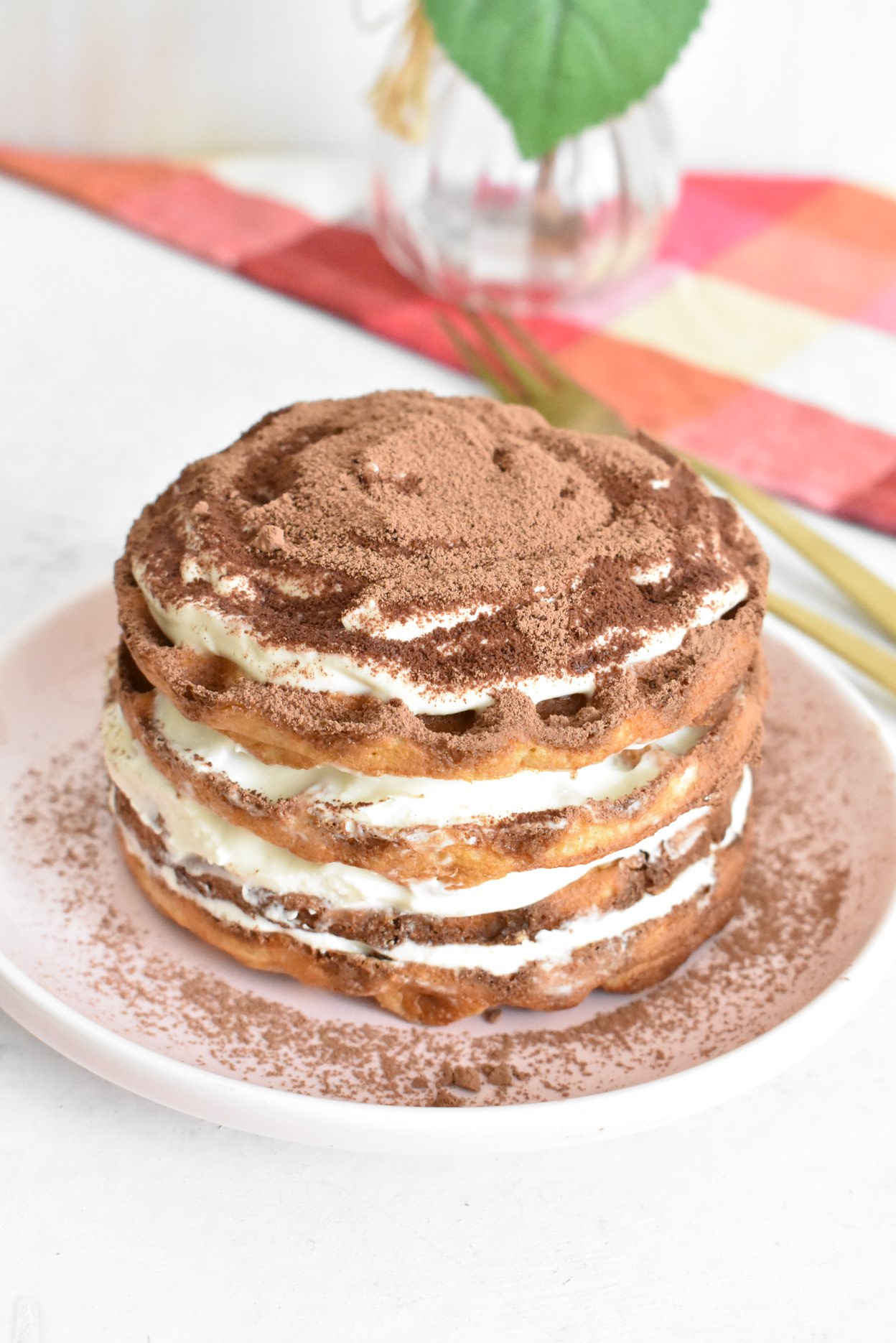 Ingredients
FOR THE CHAFFLESS
4large eggs
1/2 c.blanched finely ground almond flour
2 tsp.pure vanilla extract
2 tbsp.granulated Swerve
1 tsp.baking soda
2 c.shredded mozzarella
Cooking spray
FOR THE FILLING:
4egg yolks
1/4 c.granulated Swerve
16 oz.mascarpone cheese, softened
1 1/2 c.heavy cream
1 tsp.pure vanilla extract
Pinch kosher salt
2 1/2 c.strongly brewed coffee
Unsweetened cocoa powder
Free Keto Meal Plan : KETO DIET PLAN FOR BEGINNERS STEP BY STEP GUIDE
FOR THE COCOA:
1 tbsp.unsweetened cocoa powder
1 tsp.Swerve confectioners'
1/4 tsp.instant espresso powder
Directions
Step 1 Make

 the chaffles: Preheat waffle iron to medium-high. In a large bowl, beat eggs. Whisk in almond flour, vanilla, granulated Swerve, and baking soda until well combined. Stir in mozzarella.

Step 

2

Grease waffle iron with cooking spray, then pour a quarter of the batter into the waffle iron and cook until light golden, about 2 to 3 minutes. Let cool on a wire rack. Repeat 3 times.

Step 

3

Make the filling: Bring a medium saucepan filled about 2″ full with water to a simmer over medium heat. In a large heatproof bowl, combine egg yolks and granulated Swerve and set over the simmering pot. Whisking constantly, cook mixture over medium-low heat, until doubled in volume and velvety smooth, about 5 minutes. Remove from heat and whisk in mascarpone until smooth. Let cool slightly.

Step 

4

Meanwhile, in a large bowl, beat heavy cream and vanilla. Beat until stiff peaks form, about 5 minutes. Fold whipped cream into mascarpone custard just until combined. Set aside.

Step 5 Make

 the cocoa mixture: In a small bowl, whisk the cocoa, Swerve confectioners', and espresso powder.

Step 

6

On a large plate or platter, arrange one chaffle. Dust generously with cocoa powder mixture. Top with a quarter of the filling, and spread into an even layer, leaving about a ¼" border around the edges. Repeat with remaining chaffles, filling, and cocoa powder.

Step 

7

Cover and refrigerate for 2 hours, or up to overnight. Serve chilled.
Free Keto Meal Plan : KETO DIET PLAN FOR BEGINNERS STEP BY STEP GUIDE
Nutrition (per serving): 791 calories, 21 g protein, 26 g carbohydrates, 4 g fiber, 5 g sugar, 73 g fat, 43 g saturated fat, 563 mg sodium
---
---