Keto Snickers CheeseCake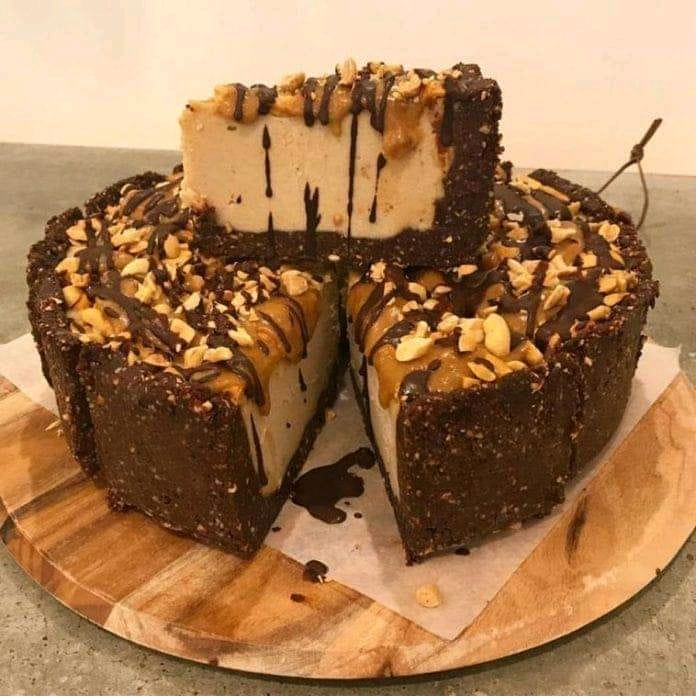 SNICKERS CHEESECAKE
Makes 16 Servings
1 Slice: 380 Calories, 36g Fat, 5g Carbs, 10g Protein
For The Crust
1 ¼  cup almond flour
¼  cup cocoa powder
¼  cup Swerve Brown Sweetener or Erythritol
3 tbsp butter melted
For The Cheesecake
2 8-oz. Packages of cream cheese, room temperature
1 Cup Brown Swerve or Erythritol
½  tsp. Salt
1 tbsp. Vanilla extract
4 large Eggs, room temperature
8oz Mascarpone Cheese
1 tsp caramel extract
For The Ganache
6 oz. Sugar-Free Chocolate or Choczero chocolate squares
3/4 c. heavy cream
1/8 tsp. kosher salt
K4k Caramel Sauce(see below)
1/2 recipe
Topping
1/4 Cup of crushed peanuts
Directions:
Crust:
Preheat oven to 325F. In a medium bowl, whisk together the almond flour, cocoa powder, and sweetener. Stir in melted butter until well combined.
Press the mixture firmly into the bottom of a 9-inch springform pan. Bake 10 to 12 minutes, and then remove and allow to cool.
Cheesecake:
Make the Cheesecake: In a large bowl using a hand mixer or in the bowl of a stand mixer using the whisk attachment, beat cream cheese and mascarpone cheese on medium, scraping down the bowl as necessary, until completely smooth, 3 to 4 minutes.
Add sweetener and salt and beat, scraping down bowl as necessary, until smooth and fluffy, 3 to 4 minutes.
Add vanilla and caramel extract and beat for 30 seconds. Add eggs, 1 at a time, beating for 1 minute after each addition and occasionally scraping the bottom and sides of the bowl.
Pour cheesecake batter into the cooled crust and smooth the top.
Place the cheesecake in a deep roasting pan and set on the middle rack of the oven. Carefully pour enough boiling water into the roasting pan to come about halfway up the sides of the springform pan. Bake cheesecake until top is just starting to brown and crack, about 1 hour and 15 minutes. Turn off the oven, open the oven door, and let the cheesecake slowly cool in the water bath for 1 hour.
Remove the roasting pan from the oven, then carefully lift springform pan out of the water. Set the cheesecake on the rack and let come to room temperature. Once completely cool, loosely cover cheesecake with plastic wrap and refrigerate 6 hours, or preferably overnight.
Chocolate Ganache:
Carefully remove the sides of the springform pan. Place chocolate in a clean, dry medium bowl. In a small saucepan, warm cream until just barely simmering. Pour cream over the chocolate and let sit 10 minutes, then add salt and stir until smooth. Pour ganache over the cheesecake, spreading it evenly and allowing some to drip down the sides of the cake. Put in the fridge or freezer to cool for 30-45 minutes until chilled and hardened.
Assembly:
Pour the caramel sauce (1/2 of the recipe) in the center of the cheesecake. Then sprinkle with the peanuts and return to the refrigerator until ready to serve or at least 20 mins.
I Added OPTIONAL peanut keto bark on top for a garnish. I used 2 pieces which came to adds an additional 14 calories, 1.5g Fat, 0.5g Carbs, and 0.5g protein per serving.
Salted Caramel Sauce
Makes 16 Servings(roughly 1/2 Tbsp)
1 Serving: 53 Calories, 6g Fat, 0g Carbs, 0g Protein
1/4 cup Butter
6 Tbsp Erythritol
2 Tbsp Swerve Brown or plain Erythritol
1/2 cup heavy cream
1 Tbsp Vanilla Extract
1/4 tsp Xanthan Gum
1/4 tsp Sea Salt
2 tbsp Water
Directions:
1.    In a medium saucepan over medium heat, combine butter, Erythritol, and Swerve Brown . Bring to a boil and cook 3 to 5 minutes (be careful not to burn it).
2.    Remove from heat and add cream. Mixture will bubble vigorously.
3.    Sprinkle with xanthan gum and whisk vigorously to combine. Add remaining ingredients(minus water).
4.    Return mixture to heat and boil 1 more minute. Let cool to lukewarm and stir in water until well combined (I use an immersion blender).
If anyone wants more Delicious Keto and Low Carb Recipe So Join My New Group Here you can get best and new Recipes:  Keto & Low Carb (Easy Recipes)
---
---