Keto Peanut Butter Cinnamon Bread Rolls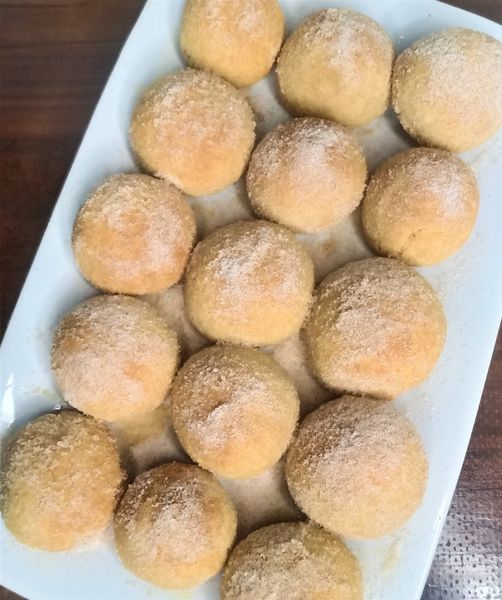 Ingredients
Bread roll
1 1/2 cup shredded mozzarella cheese
2 tbsp cream cheese
3/4 cup fine almond flour
2 tbsp coconut flour
1 egg, beaten
4 tbsp peanut butter
3 tbsp Monkfruit or your choice of sweetener
1 tsp baking powder
a pinch of salt
Cinnamon-Sugar Coating
3 tbs coconut oil, melted
1 tsp butter, melted
1/2 cup Lakanto monk fruit, or sweetener of choice
2 tbs ground cinnamon
Instructions
Preheat oven to 350F. Line baking sheet with parchment paper and set aside.
In a microwave safe bowl, microwave the mozzarella and cream cheese for 1 minute. Strirring halfway through. Let it cool
Add in almond flour, coconut flour, peanut butter, baking powder, sweetener, salt and beaten egg, stir and knead thoroughly until all mixture is even and uniform.
Using an ice cream scooper, scoop mixture each one into ball shape and place on baking sheet. If you find your dough too sticky, put oil in your hands.
Bake for 20-25 minutes or until lightly browned
For the Cinnamon-Sugar Coating In a small bowl, melt the coconut oil and butter in microwave (About 15 seconds).
In a separate small dish, whisk together the sweetener and cinnamon.
Brush the bread rolls with the coconut oil and butter mixture, then immediately toss into the cinnamon-sugar mixture to coat.
*Notes*
Best served hot/warm – when they cool down, the rolls becomes hard
You can store the remainder in an airtight container in the fridge and reheat leftovers in a microwave, oven or toaster
---
---