KETO CRISPY BATTER FRIED SHRIMP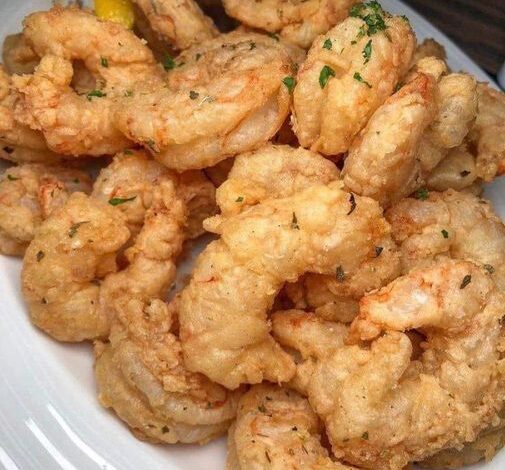 yield: 6 servings
prep time: 15 minutes
cook time: 5 minutes
total time: 20 minutes
INGREDIENTS
1 ½ pounds large shrimp tails, peeled and deveined
cooking oil of choice
1 cup almond flour
½ cup unsweetened almond milk
1 egg
1 teaspoon paprika
1 teaspoon garlic powder
salt and pepper, to taste
CLICK PIN TO VISIT SITE FOR FULL RECIPE
INSTRUCTIONS
Heat the oil of choice in a deep skillet over medium-high heat. Optionally, you can use an air fryer; preheat now if using.
Clean and wash shrimp, leaving the tails intact.
In a bowl, mix together the almond flour, egg, almond milk, garlic powder, paprika, salt, and pepper until combined.
Once the oil is hot, hold the shrimp by the tail and dip into the batter and get a thick coating.
Carefully place the shrimp into the oil, only cooking a few at a time to avoid overcrowding. Cook for 3-5 minutes, until golden brown on the outsides and opaque in the center.
Repeat dipping and frying for all of the remaining shrimp. Service with your choice of dipping sauce, a fresh salad, or other low carb side. Enjoy!
NOTES
Do not use flavored almond milk; be sure it is plan and unsweetened
NUTRITION INFORMATION:
Yield: 6
Amount Per Serving: Calories: 350
---
---