Keto Beef and Cauliflower Casserole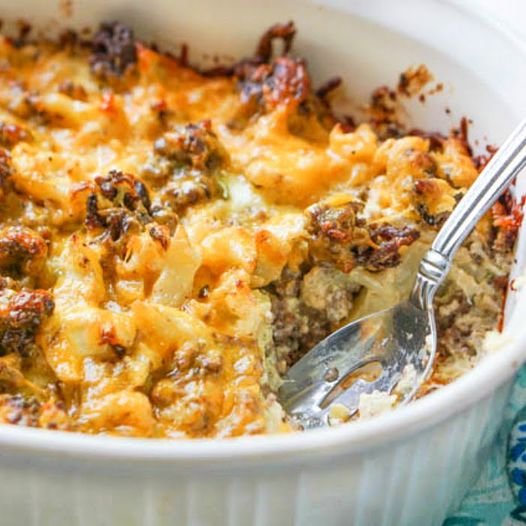 Keto Beef and Cauliflower Casserole Recipe:
1 head of cauliflower, cut into florets

3 cloves of garlic, minced

1/2 teaspoon of black pepper

1/2 teaspoon of dried oregano

1/2 teaspoon of dried basil

1 cup of shredded cheddar cheese

1/4 cup of grated Parmesan cheese
Preheat the oven to 375°F (190°C).

In a large skillet, cook the ground beef over medium heat until browned, about 8-10 minutes. Drain any excess grease.

Add the diced onion and minced garlic to the skillet and cook until the onion is translucent, about 5-7 minutes.

Stir in the diced tomatoes, salt, pepper, oregano, and basil. Cook for an additional 2-3 minutes.

In a large saucepan, cook the cauliflower florets in boiling water for 5-7 minutes or until tender. Drain and set aside.

In a large bowl, mix together the cooked ground beef mixture, cooked cauliflower, heavy cream, cheddar cheese, and grated Parmesan cheese.

Pour the mixture into a 9×13 inch (23×33 cm) casserole dish and dot with butter.

Bake in the oven for 25-30 minutes or until the cheese is melted and bubbly.

Serve hot and enjoy this delicious and hearty keto beef and cauliflower casserole.
This casserole is a great low-carb dinner option and a great way to incorporate more veggies into your diet. The combination of tender cauliflower, savory ground beef, and melted cheese make this dish a comforting and satisfying meal.
---
---