Healthy Low Carb Keto Zucchini Fritters – 2g Net Carbs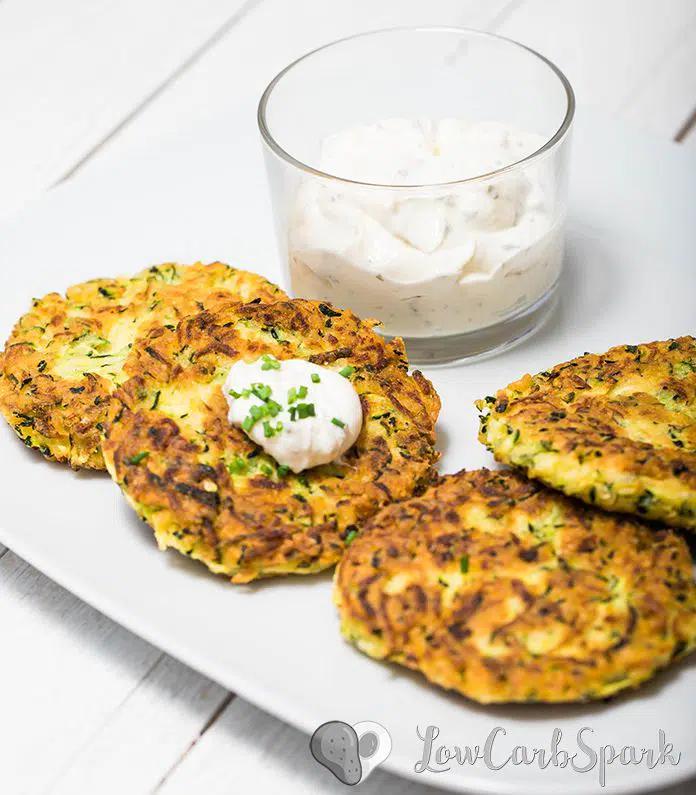 INGREDIENTS
1 pound zucchini
1 tsp salt
1/4 cup coconut flour
1/4 cup grated Parmesan
1/2 teaspoon baking powder
2 cloves garlic minced
1 large egg beaten
½ tsp xanthan gum
1/2 tsp Kosher salt and ground black pepper to taste
2 tablespoons olive oil or more for frying
INSTRUCTIONS
Grate the zucchini on the large holes of a box grater or using a food processor. Place the grated zucchini, in a colander over the sink. Gently stir in 1 tsp salt and toss to combine; let sit for 10 minutes.
Squeeze handfuls of zucchini using a clean dish towel or cheesecloth to drain as much liquid as possible.
In a large bowl, add zucchini, coconut flour, Parmesan cheese, minced garlic, and egg.
Season with salt and pepper, to taste. Stir well to combine.
Heat olive oil or refined coconut oil in a large skillet over medium-high heat.
Scoop ¼ cup of batter for each fritter, flattening out the tops with a spatula.
Cook on each side for about 2-3 minutes or until golden brown. Adjust the temperature if needed.
NUTRITION FACTS
Amount per serving.
Calories 79kcal
Total Carbs 4g
Net Carbs 2g
Protein 3g
Fat 6g
Fiber 2g
Sugar 2g
---
---