Simple Low Carb Chimichurri Steak Bites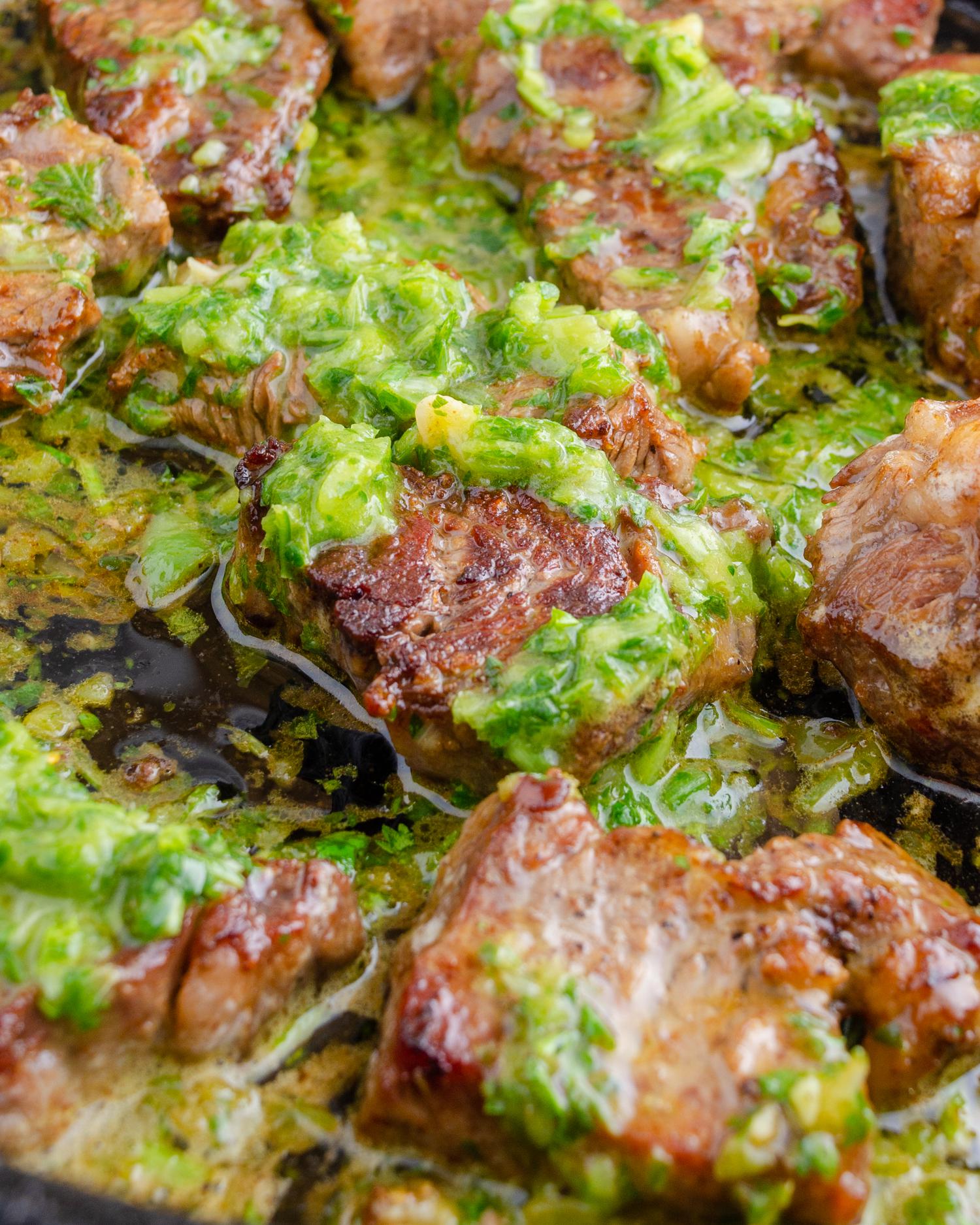 Chimichurri steak bites are about as easy as it gets! Perfectly seared and tossed in a homemade chimichurri, this satisfying low carb high protein recipe is on the table in minutes!
Steak bites are one of those go to meals we make when we don't feel like spending a lot of time in the kitchen.
Makes 6 Servings
Nutrition (Per serving):
Calories: 481kcal | Fat: 34.2g | Carbohydrates: 0.6g | Protein: 40.6g
Ingredients:
2 pounds steak ribeye, striploin or filet
salt and pepper
4 tablespoons butter
½ cup chimichurri recipe below
Low Carb Chimichurri
1 cup parsley roughly chopped
1 cup cilantro roughly chopped
¼ cup oregano roughly chopped
1 whole jalapeno roughly chopped
2 cloves garlic
2 tablespoons lemon juice
2 tablespoons red wine vinegar
¼ cup olive oil
½ teaspoon salt
½ teaspoon pepper
Directions:
Homemade Chimichurri
Quick Method: Add all the parsley, cilantro, oregano, jalapeno, garlic, lemon juice, and vinegar to a food processor or blender. Blitz until chunky like a pesto.
Add the oil. With the food processor running, drizzle in the oil a little bit at a time until a sauce begins to form with the consistency similar to a pesto. Add oil and blitz until your desired consistency is reached. Season with salt and pepper to taste.
Rustic Method: Chop the parsley, cilantro, oregano, garlic, and jalapeno very fine. Add to a bowl or mortar and pestle. Stir in the remaining ingredients and crush and mash the ingredient together into a chunky paste. Season with salt and pepper to taste.
Chimichurri Steak Bites
1. Sear the steak. Cube the steak into 1 ½ to 2 inch chunks. Season liberally with salt and pepper. Heat oil in a cast iron skillet until its nearly smoking hot. Carefully add the chunks of steak and sear on each side for around 1 to 1 1/2 minutes per side for medium rare, or longer from more well done steak. Add the butter and turn off the heat.
2. Toss in Chimichurri. Spoon in some of the chimichurri and toss to coat. Remove the steak bites from the pan and let them rest for at least 5 minutes before serving.
---
---