Seafood Mac and Cheese Recipe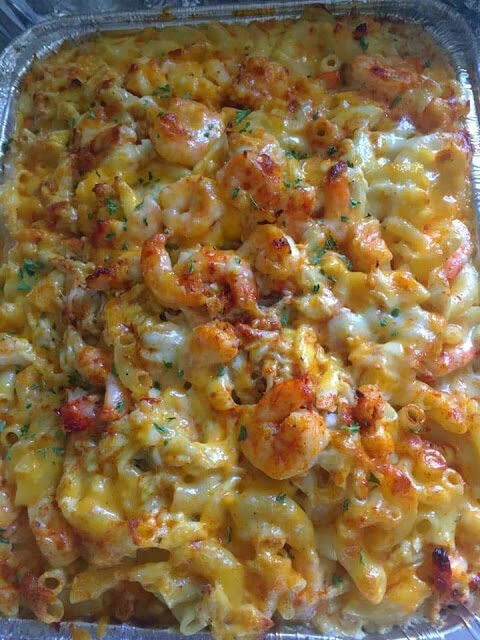 FREE MEAL PLAN : KETO DIET PLAN FOR BEGINNERS STEP BY STEP GUIDE
Ingredients:
2 cups of cauliflower florets (substitute for macaroni)
6 oz. Claw Crab Meat
8 oz. Shrimp, peeled and deveined
8 oz. Sour Cream
4 Tablespoons Butter
2 Tablespoons Almond Flour (substitute for all-purpose flour)
1 Spring Onion
1 can Unsweetened Almond Milk (or heavy cream for a richer version)
8 oz. block Sharp White Cheddar Cheese
4 oz. block Mozzarella Cheese
¼ cup Almond Flour or Crushed Pork Rinds (substitute for Panko Bread Crumbs)
Salt and Black Pepper to taste
1/4 teaspoon Paprika (optional)
Cooking oil or cooking spray for greasing the baking dish
Nutritional Information (per serving):
Calories: 485
Total Fat: 37g
Total Carbohydrates: 6g
Dietary Fiber: 2g
Net Carbohydrates: 4g
Protein: 31g
Instructions:
Preheat your oven to 350°F (175°C).
Prepare the cauliflower "macaroni":
Wash and chop the cauliflower into small, macaroni-sized pieces.
Steam or microwave the cauliflower until it's tender but not mushy. Drain well.
Place the cooked cauliflower in a large mixing bowl.
Add the sour cream and stir until all the cauliflower pieces are coated.
Add the crab meat and stir to combine.
Finely chop the green onion and set it aside.
Grate the white cheddar cheese and mozzarella cheese and set them aside.
In a medium saucepan or skillet, melt the butter over medium heat.
Add the shrimp and cook until they are lightly done. Remove the shrimp from the pan, let them cool, and then chop them slightly. Add the chopped shrimp to the cauliflower mixture.
In the same saucepan, add the finely chopped onions and sauté until they are tender.
Sprinkle 2 tablespoons of almond flour (or crushed pork rinds) over the onions and mix well. Let it cook and brown for about one minute.
Slowly add the unsweetened almond milk (or heavy cream), stirring constantly until the mixture begins to thicken.
Gradually add the grated cheddar cheese, stirring constantly until the cheese melts.
Pour the cheese mixture over the cauliflower and seafood mixture, stirring well to combine.
Season with salt and black pepper to taste.
Grease a baking dish with cooking oil or cooking spray and transfer the mixture into the dish.
Sprinkle the top with grated mozzarella cheese and a touch of paprika for color (if desired).
Bake at 350°F (175°C) for 20-25 minutes, or until it's lightly browned on top.
Serve warm and enjoy your Keto and Low-Carb Seafood Mac and Cheese!
FREE MEAL PLAN : KETO DIET PLAN FOR BEGINNERS STEP BY STEP GUIDE
---
---