Lemon Garlic Butter Shrimp with Asparagus Recipe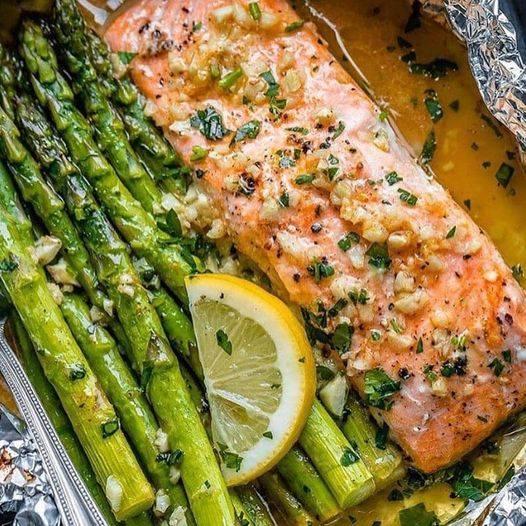 2 slices of salmon fillet
2 tablespoons vegetable broth or chicken broth
1 1/2 tablespoon fresh lemon juice, or to taste
1 tablespoon of your favorite hot sauce (we used Sriracha)
4 teaspoons minced garlic (4 cloves)
Salt and fresh ground black pepper, to taste
3-4 tablespoons butter, diced into small cubes (or ghee)
2 tablespoons fresh chopped parsley or cilantro
1 lb (450g) medium-thick asparagus, woody ends trimmed
Instructions:
1. Preheat your oven to 425ºF (220ºC). Cut 2 sheets of 14 by 12-inch (35 x 30 cm) heavy duty aluminum foil then lay each piece separately on the countertop. In a small bowl, combine the ingredients for the sauce: broth, lemon juice, and hot sauce.
2. Divide salmon fillets onto the aluminum foil near the center then place trimmed asparagus to one side of the salmon, following the long direction of the foil.
3. Sprinkle over garlic and then season with salt and pepper. Drizzle the sauce generously over the salmon fillets.
4. Divide butter pieces evenly among the foil packets, layering them over the salmon and asparagus.
5. Wrap packets in and crimp edges together then wrap ends up. Don't wrap too tight – keep a little extra space inside for heat to circulate.
6. Transfer to a baking sheet and bake in the oven, sealed side upward until salmon has cooked through, about 9 – 12 minute.
7. Carefully unwrap the baked salmon foil packets then drizzle with more lemon juice and garnish with fresh parsley or cilantro and a slice of lemon. Enjoy!
Notes:
1. You can double the amounts for a family meal.
2. In general, it is better to not overcook salmon. If you like salmon and asparagus a bit crispy, just open the foil packs and broil in the oven for 2 minutes.
3. If aluminum foil is a concern, you can use parchment paper to make the packets
4. For non-keto dieters, a teaspoon of honey over the salmon fillets is a must!
---
---