Keto Taco Casserole Recipe: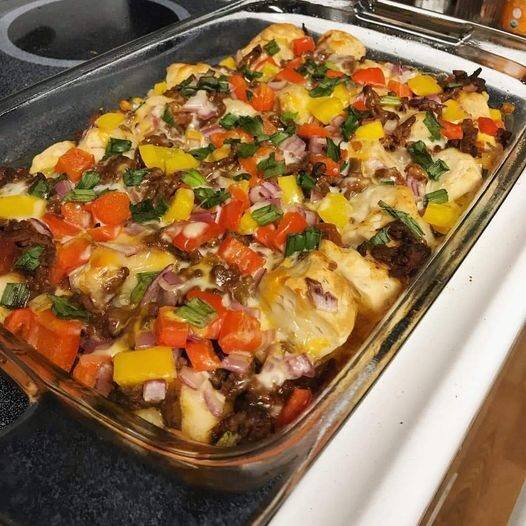 FREE MEAL PLAN : KETO DIET PLAN FOR BEGINNERS STEP BY STEP GUIDE
Ingredients:
1 lb (450 g) ground beef
1/4 cup (60 ml) homemade taco seasoning
1/4 cup (60 ml) water
2 cups (300 g) shredded zucchini
1 cup (240 ml) sugar-free salsa
2 cups (225 g) shredded cheddar cheese
Sour cream, avocado, cilantro for serving (optional)
Directions:
Preheat oven to 375°F (190°C) and grease a 9×13 inch baking dish.
In a large skillet over medium-high heat, cook the ground beef, breaking it up with a spatula, until browned and cooked through. Drain the excess fat if needed.
Add the taco seasoning and water to the skillet and simmer until slightly thickened, about 10 minutes.
Spread the shredded zucchini evenly over the bottom of the prepared baking dish.
Spoon the beef mixture over the zucchini layer and spread it gently.
Pour the salsa over the beef layer and spread it evenly.
Sprinkle the cheese over the salsa layer.
Bake for 15 to 20 minutes, or until the cheese is melted and bubbly.
Let the casserole rest for 10 minutes before cutting into servings.
Enjoy with sour cream, avocado, cilantro, or any toppings of your choice.
Nutrition Facts (per serving, makes 8 servings):
Calories: 287
Fat: 19 g
Carbohydrates: 6 g
Fiber: 2 g
Net Carbs: 4 g
Protein: 23 g
I hope you like this recipe!
FREE MEAL PLAN : KETO DIET PLAN FOR BEGINNERS STEP BY STEP GUIDE
---
---