Keto Steak Fajitas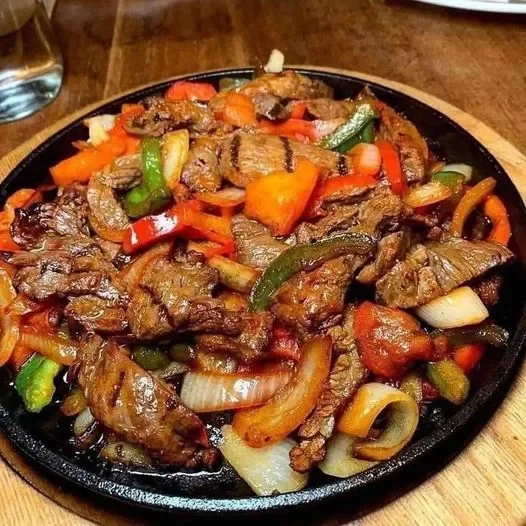 FREE MEAL PLAN : KETO DIET PLAN FOR BEGINNERS STEP BY STEP GUIDE
yield: 6
prep time: 5 MINUTES
cook time: 15 MINUTES
total time: 20 MINUTES
These keto steak fajitas are the perfect way to enjoy all the flavors of this classic Mexican dish without all the extra carbs.
Ingredients
1 1/2 lbs ribeye steak, sliced thinly
1/2 medium red bell pepper, sliced
1/2 medium green bell pepper, sliced
1/2  medium yellow or orange bell pepper, sliced
1 medium yellow onion sliced
2 minced garlic cloves
2 tablespoons of avocado oil
Keto Fajita Seasoning
2-3 tablespoons of fajita seasoning mix
1/4 cup of lime juice, about 2 limes
Instructions
Toss the sliced steak with 2-3 tablespoons of keto-friendly homemade fajita seasoning.
Add the lime juice and allow the steak to marinate while the peppers and onions are sliced.
Heat a large skillet over medium-high heat with 2 tablespoons of oil.
Add the steak strips and cook until the steak is seared well on both sides and is your desired temperature.
Remove the cooked steak and add the peppers and onion, and minced garlic, and cook until tender about 7-8 minutes.
Add the steak back into the skillet with the peppers to heat for a couple of minutes and serve immediately.
Store leftovers in the refrigerator for up to 3 days.
Notes
I used a combination of bell peppers but you can opt to use just one and still have a delicious dish.
You can opt to swap the yellow onion for red onion if you prefer.
Nutrition Information:
YIELD: 6 SERVING SIZE: 1
Amount Per Serving: CALORIES: 335TOTAL FAT: 20.1gSATURATED FAT: 9.1gCHOLESTEROL: 90mgSODIUM: 300mgCARBOHYDRATES: 2.9gNET CARBOHYDRATES: 2gFIBER: .9gSUGAR: 1.8gPROTEIN: 20.6g.
FREE MEAL PLAN : KETO DIET PLAN FOR BEGINNERS STEP BY STEP GUIDE
---
---