Keto Sausage Pinwheels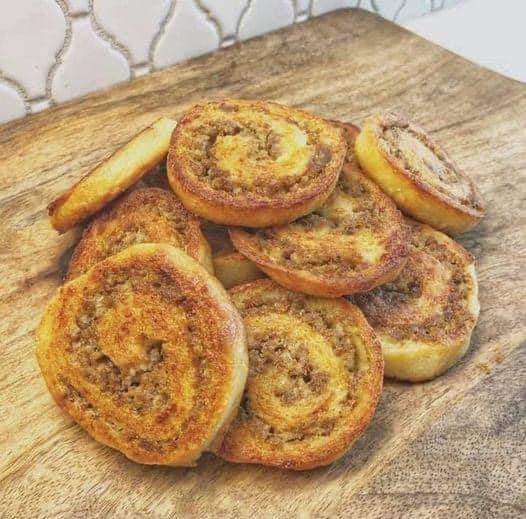 Ingredients:
* 3 cups mozzarella cheese shredded
* 8 oz cream cheese
* 1 egg
* 1 1/2 cups of almond flour
* 1 lb sausage
Directions:
1. Preheat oven at 400 degrees
2. Brown 1 lb of sausage and drain grease
3. In a mixing bowl add sausage and 4oz of cream cheese together until well mixed.
4. Set mixture aside and create dough
5. In a microwave safe bowl add 4 Oz of cream cheese and shredded mozzarella
6. Microwave on high for about 1.5 minutes stirring every 30 seconds until cheese is melted
7. Remove from microwave then add the almond flour.
8. Mix well then add the egg.
9. Mix until a dough is formed.
10. Sandwich the dough between two sheets of parchment paper and use a rolling pin to roll into 1/4in thickness.
11. Remove top sheet of paper and spread the sausage mixture evenly over the dough.
12. Using the parchment paper gently roll the dough long ways into a log.
13. Wrap the log in plastic wrap and place in the freezer for about 30 minutes or until hardened enough to cut into pinwheels.
14. Remove from freezer and cut into 1/2 inch thick pinwheels.
15. Place onto a sprayed cookie sheet and bake for about 15 minutes flipping after the first 7 minutes.
---
---