Keto sausage gravy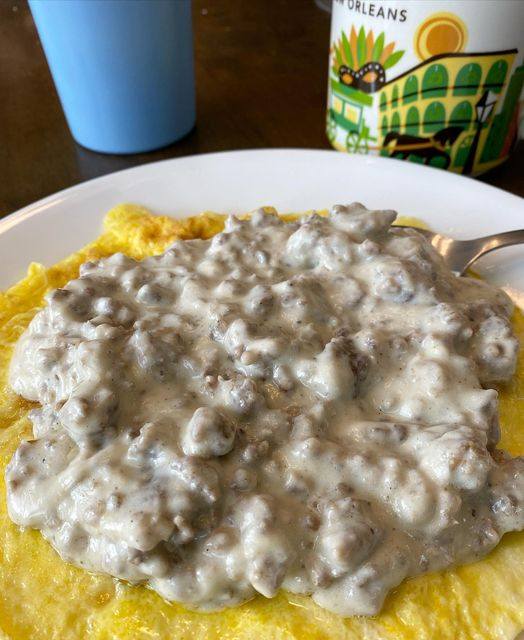 Keto sausage gravy is a low-carb version of the classic comfort food. It's made with sausage, cream, and a variety of herbs and spices, and it's served over low-carb biscuits or cauliflower rice for a delicious, satisfying meal that's perfect for breakfast or brunch.
To make keto sausage gravy, you'll need ingredients such as ground sausage, heavy cream, cream cheese, garlic powder, onion powder, salt and pepper. First, cook the sausage in a skillet until it's browned and fully cooked. Then, add the cream cheese, heavy cream, and seasonings to the skillet and stir well until everything is combined and the sauce is smooth.
You can adjust the seasoning to taste and add a splash of hot sauce to give your sausage gravy an extra kick. Serve the gravy over keto-friendly biscuits or cauliflower rice, and enjoy a delicious breakfast or brunch that's low in carbs, high in fat and will keep you full and satisfied for hours.
Free Keto Meal Plan: KETO DIET PLAN FOR BEGINNERS STEP BY STEP GUIDE
INGREDIENTS
1 tablespoon butter
12 ounces breakfast sausage
⅓ cup chopped onion
1 cup broth
1 cup heavy cream
8 ounces cream cheese cubes
¼ teaspoon xanthan gum
1 ½ teaspoons garlic powder
½ teaspoon sea salt
½ teaspoon fresh ground black pepper
INSTRUCTIONS
Heat butter in a saucepan over medium-high heat.
Add the sausage and cook, using a spoon to break up the meat, for about 6 minutes, or until the sausage is no longer pink.
Add the onion and cook for 2 minutes.
Stir in broth, heavy cream, cream cheese, and xanthan gum.
Bring to a simmer, whisking constantly.
Reduce to medium-low. Cook until the mixture thickens, about 5 minutes.
Add in garlic powder, salt, and fresh ground black pepper.
Calories: 245kcal
Carbohydrates: 2.1g
Protein: 8g
Fat: 21g
Free Keto Meal Plan: KETO DIET PLAN FOR BEGINNERS STEP BY STEP GUIDE
---
---