Keto Lemon Cheesecake Bars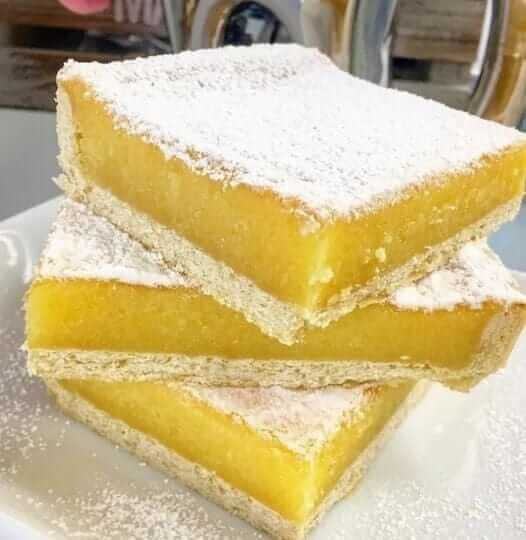 You will love these Keto Lemon Cheesecake Bars! With three layers including a sweet shortbread crust, lemon cheesecake, and a smooth lemon bar layer these are the ultimate citrus dessert!
DURATION:
**Cook time: **25 MINUTES
**Total time: **45 MINUTES
INGREDIENTS
SHORTBREAD CRUST
5 tablespoons salted butter

2 tablespoons confectioners sweetener*
LEMON CHEESECAKE LAYER
8 ounces of cream cheese, softened

1/3 cup confectioners sweetener*

1 teaspoon vanilla extract
LEMON BAR LAYER
1/2 cup confectioners sweetener*
INSTRUCTIONS
Preheat your oven to 350 degrees.

Line an 8×8 pan with aluminum foil so the bars are easier to remove.

Combine the crust ingredients together and press into the bottom of the pan. Pre-bake for 7 minutes until set and very lightly brown. COOL COMPLETELY before adding the next layer.

While the crust cools, combine all lemon cheesecake layer ingredients in a blender or stand mixer. Blend until completely smooth.

Spread the cheesecake layer evenly on the COOL crust.

Lastly, in a blender or mixer, combine the lemon bar layer ingredients and blend until smooth.

Chill the mixture for 10 minutes.

Pour evenly over the top of the cheesecake layer.

Bake 20-25 minutes until set.
Free Keto Meal Plan: KETO DIET PLAN FOR BEGINNERS STEP BY STEP GUIDE
NOTES
*Confectioners Swerve or Monkfruit work well in this recipe
NUTRITION INFORMATION:
Serving size : 1 bar | Calories: 201 | Carbohydrates: 5.3g | NetCarbohydrates: 3.8g | Protein: 5.3g | Fat: 14.9g | Cholesterol: 93mg | Sodium: 123mg | Sugar: 1.9g | Fiber: 1.5g
---
---