Keto-friendly Chicken Gyro Salad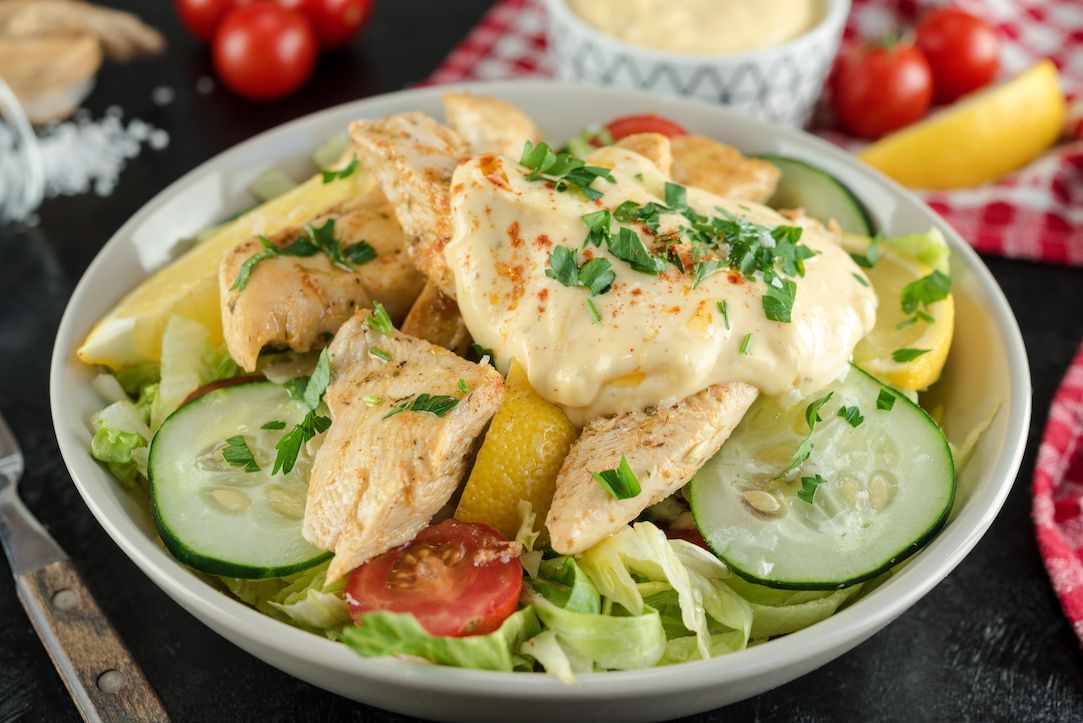 Our Secret dressing on this Keto-friendly Chicken Gyro Salad will make you want this salad over and over…
⠀⠀⠀⠀⠀⠀⠀⠀⠀
Free Keto Meal Plan: KETO DIET PLAN FOR BEGINNERS STEP BY STEP GUIDE⠀⠀⠀⠀⠀⠀⠀⠀⠀
Keto Chicken Gyro Salad
Serving Size: 4
⠀⠀⠀⠀⠀⠀⠀⠀⠀
Ingredients:
⠀⠀⠀⠀⠀⠀⠀⠀⠀
Marinade
1/4 cup olive oil
3 garlic cloves, minced
2 tsp oregano, ground
1 tsp paprika
1 tsp thyme, ground
1/2 tsp salt
1/2 tsp black pepper
⠀⠀⠀⠀⠀⠀⠀⠀⠀
Garlic Mayo Dressing
1 cup mayonnaise
1/2 lemon, juice
2 garlic cloves, minced
1 tsp thyme, ground
salt and pepper to taste
⠀⠀⠀⠀⠀⠀⠀⠀⠀
Other 
4 chicken breasts
2 cup cucumber, sliced
1 cup cherry tomatoes, sliced
4 cup iceberg lettuce, shredded
4 tsp parsley, fresh
⠀⠀⠀⠀⠀⠀⠀⠀⠀
Instructions:
1. In a bowl, mix marinade ingredients together.
2. Cut chicken into smaller pieces, then add it to the marinade bowl.
3. Coat chicken with marinade and place in the fridge for 30 minutes.
4. Transfer chicken plus marinade to a baking pan and cook in the oven for 20 minutes at 375F, turning the chicken halfway through.
5. In a small bowl, whisk together the dressing ingredients.
6. In a serving bowl, add shredded lettuce, sliced cucumber, and cherry tomatoes.
7. Top with cooked chicken and drizzle prepared to dress.
8. Garnish with fresh parsley.
9. Enjoy!
⠀⠀⠀⠀⠀⠀⠀⠀⠀
Per serving 
465 cals, 7g carbs, 5g net carbs, 23g protein, 39g fat
Free Keto Meal Plan: KETO DIET PLAN FOR BEGINNERS STEP BY STEP GUIDE⠀⠀⠀⠀⠀⠀⠀⠀⠀
---
---