Keto Dogs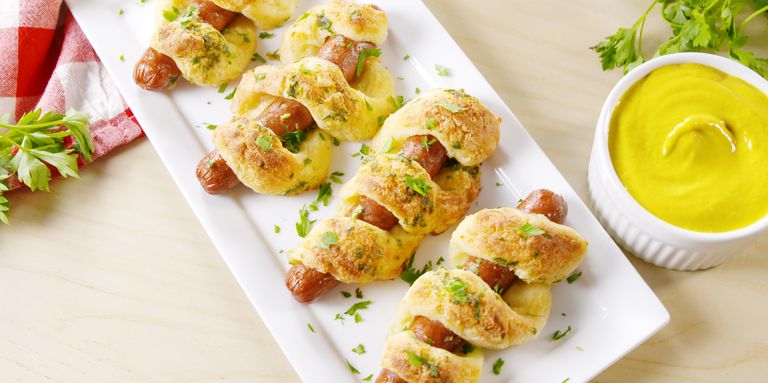 Succulent? Check. Savory? Check. A little scary? Check. Wrapping these dogs up in cheesy goodness makes dinner tasty and whimsical. Bonus: These bundles of frightening fun are keto too.
INGREDIENTS:
2 c. shredded mozzarella
4 oz. cream cheese
2 large eggs, beaten
2 1/2 c. almond flour
2 tsp. baking powder
1 tsp. kosher salt
8 hot dogs
4 tbsp. butter, melted
1 tsp. garlic powder
1 tbsp. freshly chopped parsley
Mustard, for serving
DIRECTIONS:
Preheat oven to 400° and line a baking sheet with parchment paper. In a large microwave-safe bowl, melt together mozzarella and cream cheese.
Add eggs and stir to combine then add almond flour, baking powder, and salt.
Divide dough into 8 balls then shape each ball into long ropes.
Wrap a rope around each hot dog.
In a small bowl whisk together butter, garlic powder, and parsley.
Brush garlic butter over each hot dog then bake until golden, 1o-15 minutes.
Serve with mustard.
---
---