Keto Crispy Broccoli Cheese Bite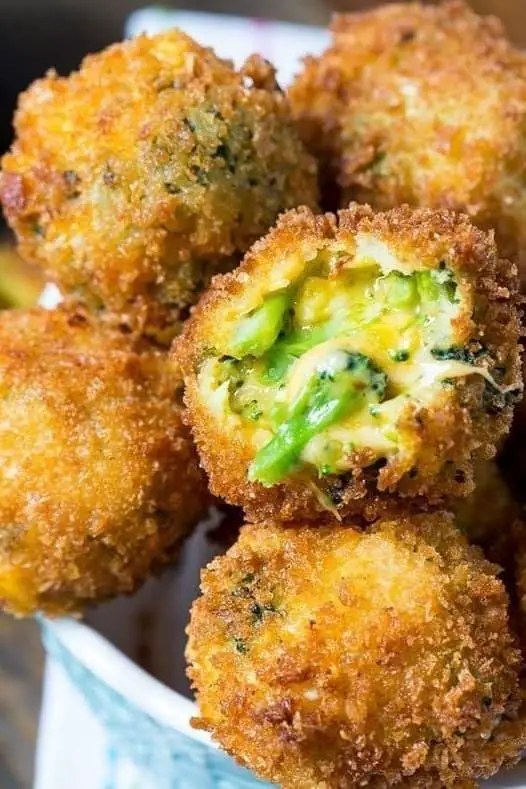 Ingredients
Broccoli cheese balls:
1 ½ cups frozen broccoli, thawed and drained (about 6 ounces)
8 ounces cream cheese softened
6 ounces grated cheddar
3 cloves garlic minced or pressed
¼ teaspoon red pepper flakes
¾ teaspoon salt
½ teaspoon pepper
Keto Bread :
2 tablespoons of coconut flour
2 large eggs
1 tablespoon of cream
1 ½ cups pork rind crumbs
Frying oil:
3-4 cups of oil for frying
Free Keto Meal Plan : KETO DIET PLAN FOR BEGINNERS STEP BY STEP GUIDE
Instructions
Finely chop the broccoli and place in a large bowl. Add the cream cheese, cheddar cheese, garlic, chili flakes, salt and pepper. Mash with a fork until well combined.
Roll the mixture no larger than 1 inch and lay it on a baking sheet or tray lined with greaseproof paper. You should get about 30 balls. Freeze for 3 to 4 hours.
Spread the coconut flour on a shallow dish. In a medium bowl, whisk together the eggs and cream. Spread the pork rinds in another medium bowl.
Once frozen, add the oil to a heavy-duty 4-quart saucepan and heat to 350F. Do your best to keep the temperature between 330F and 350F. (Which is warmer means the outside of the bites cook very quickly and the filling doesn't dissolve).
For a light coating, roll each ball in coconut flour, then dip in egg and sprinkle in prok shell crumbs.
Add 4 to 6 balls to the hot oil and cook until golden brown, about 3 minutes. Remove with a slotted spoon to drain on a paper towel-lined plate. Repeat with the remaining balls.
Serve at room temperature (don't serve hot, they'll burn your mouth with melted cheese!).
---
---