Keto Chocolate Chip Bread 😋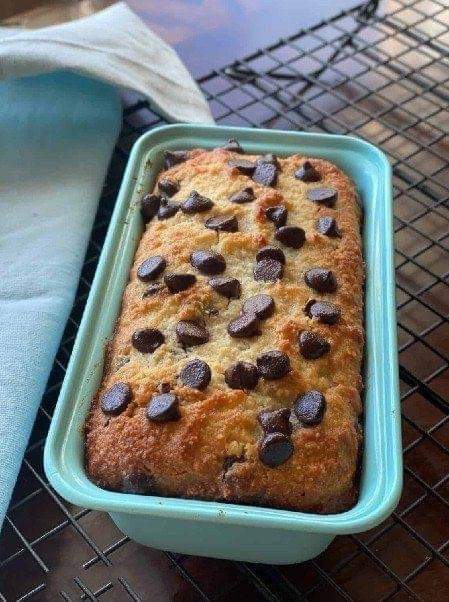 FREE MEAL PLAN : KETO DIET PLAN FOR BEGINNERS STEP BY STEP GUIDE
EQUIPMENT
1 loaf pan/2 mini loaf pans
Bowl for mixing
INGREDIENTS
1/2 cup butter melted
1 tbs nut butter almond, peanut, cashew(your choice)
1/3 cup allulose
2 eggs
2 cups almond flour
1/2 tsp baking powder
1/2 tsp mapleine extract
2 tsp vanilla extract
1/2 tsp cinnamon
1/2 tsp salt
2/3 cup sugar free chocolate chips
INSTRUCTIONS
To 350 degrees, preheat oven.
Cream together butter and sweetener with a hand mixer.
Add the eggs(and continue mixing).
Add the baking powder, nut butter, almond flour, cinnamon, salt, mapalene, and vanilla.
Mix until it gets fully combined.
Mix in the chocolate chips(sugar free). For the top of the bread, reverse 2 tbs of sugar free chocolate chips.
On top of the chocolate chip bread, sprinkle the remaining chips.
Until the center is fully done when you do the toothpick test and it's golden brown on top, bake for 30 to 35 minutes.
NOTES
Makes one large loaf/2 mini loaves of chocolate chip bread.
NUTRITION
Calories: 178
Carbohydrates: 8g
Protein: 4g
Fat: 16g
Fiber: 2g
Sugar: 1g
FREE MEAL PLAN : KETO DIET PLAN FOR BEGINNERS STEP BY STEP GUIDE
---
---