keto chicken cordon bleu casserole
Keto Chicken Cordon Bleu Casserole
This low carb Chicken Cordon Bleu Casserole is a delicious keto recipe that is filled with all the traditional flavors you and your entire family will love! It's made with chicken breast, ham, Dijon mustard, cream cheese and Swiss cheese.
This recipe is a great way to use up leftover ham or chicken.
This delicious recipe is perfect for those following a low-carb diet or keto diet. It has 1g of total carbs per serving. It's pure comfort food in low carb casserole form!
With simple ingredients this is an easy yet delicious meal to make for the family! Plus, with this recipe you will not have to worry about stuffing the chicken like you would in traditional Chicken Cordon Bleu.
Plus this chicken cordon bleu has no breading so it's WAY lower in carbs than a traditional chicken cordon bleu recipe.
All of the tasty ingredients come together perfectly to leave you with a creamy, cheesy dish that is packed with flavor! It's so good you'll be wanting to eat it straight from the casserole dish!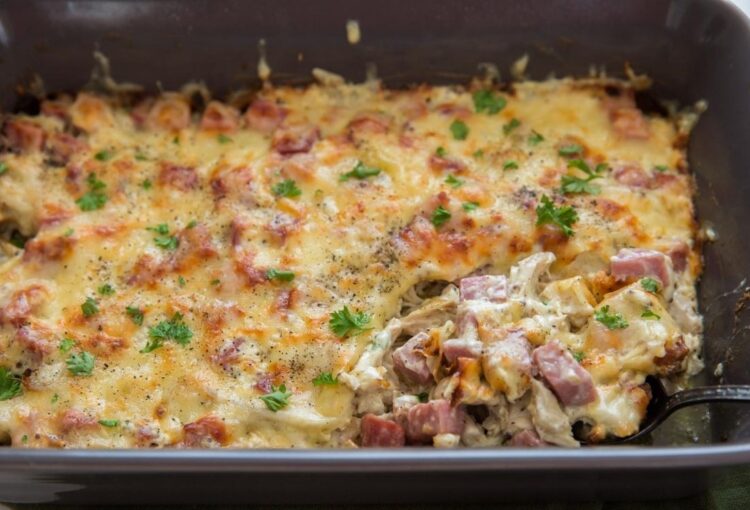 What is chicken cordon bleu?
Chicken cordon blue is typically a chicken breast sliced open and stuffed with ham and Swiss cheese and then coated in bread crumbs and baked. Other variations also have the chicken breast pounded out flat, layered with ham and cheese, rolled up, coated with bread crumbs, and then baked.
Ingredients for Low-Carb Chicken Cordon Bleu Casserole
Boneless skinless chicken breast
Ham
Cream cheese
Butter
White wine
Dijon mustard
Lemon juice
Salt
Black pepper
Swiss cheese
Pro Tip:
Use rotisserie chicken, leftover chicken or make Instant Pot shredded chicken breast to save prep time! If you make extra shredded chicken, try this Creamy Salsa Chicken Recipe. You can also use shredded chicken thighs too if you want a higher fat content.
If you like your chicken cordon bleu extra cheesy, try topping it with shredded parmesan cheese.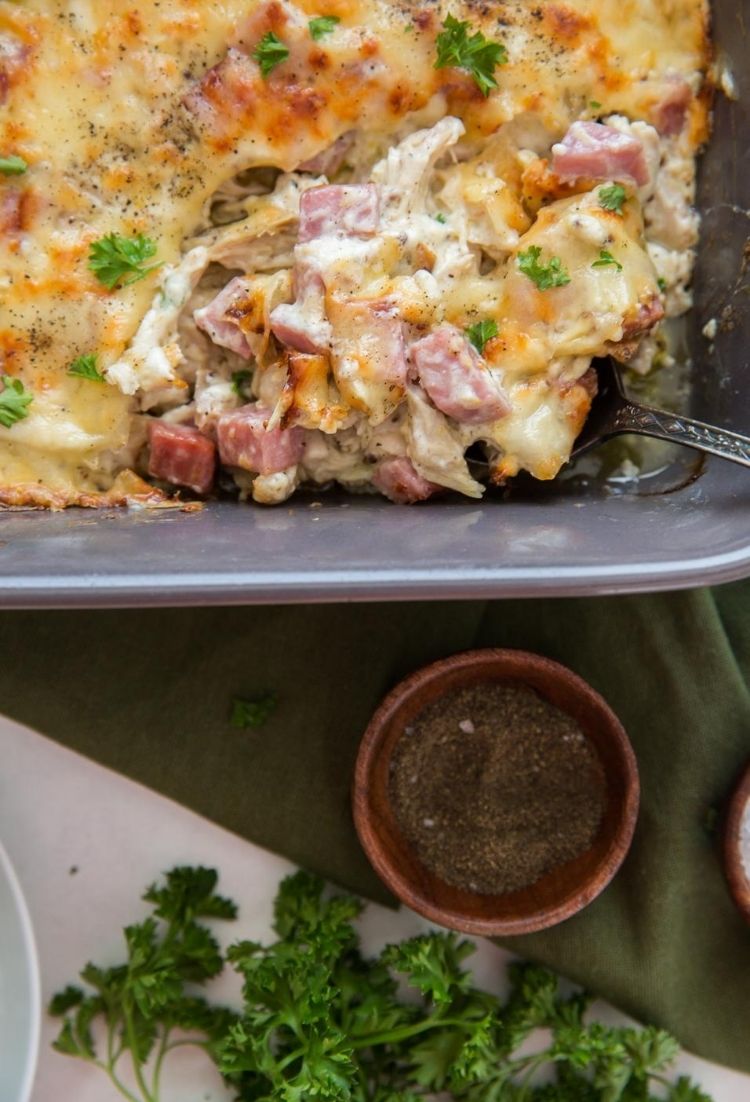 How to make Chicken Cordon Bleu keto
Is chicken cordon bleu keto friendly? Typically no, but this easy recipe is!
Skip the bread crumbs, almond flour and panko breading in this super easy keto chicken cordon bleu casserole!
Your first step in making this keto friendly Chicken Cordon Bleu Casserole recipe is to preheat the oven to 350 degrees F.
Next, put the chicken in the bottom of a greased 9 x 13 in casserole dish. Then you want to layer the pieces of ham on top.
Make the cheese sauce. In a large bowl, combine the cream cheese, butter, white wine, mustard, lemon juice, salt, and pepper. Then blend these ingredients with an electric hand mixer until a creamy sauce forms.
Next spread the mustard cream sauce over the top of the casserole. After that, sprinkle the Swiss cheese on top of the sauce.
Next, place the casserole in the oven and bake for 25-30 minutes until hot and the cheese melts.  Also, you can broil it for 1-2 minutes if desired for bubbly cheese.  Finally, garnish with parsley if desired and enjoy!
Pro tip: before broiling you can also top with crushed pork rinds for a little extra texture.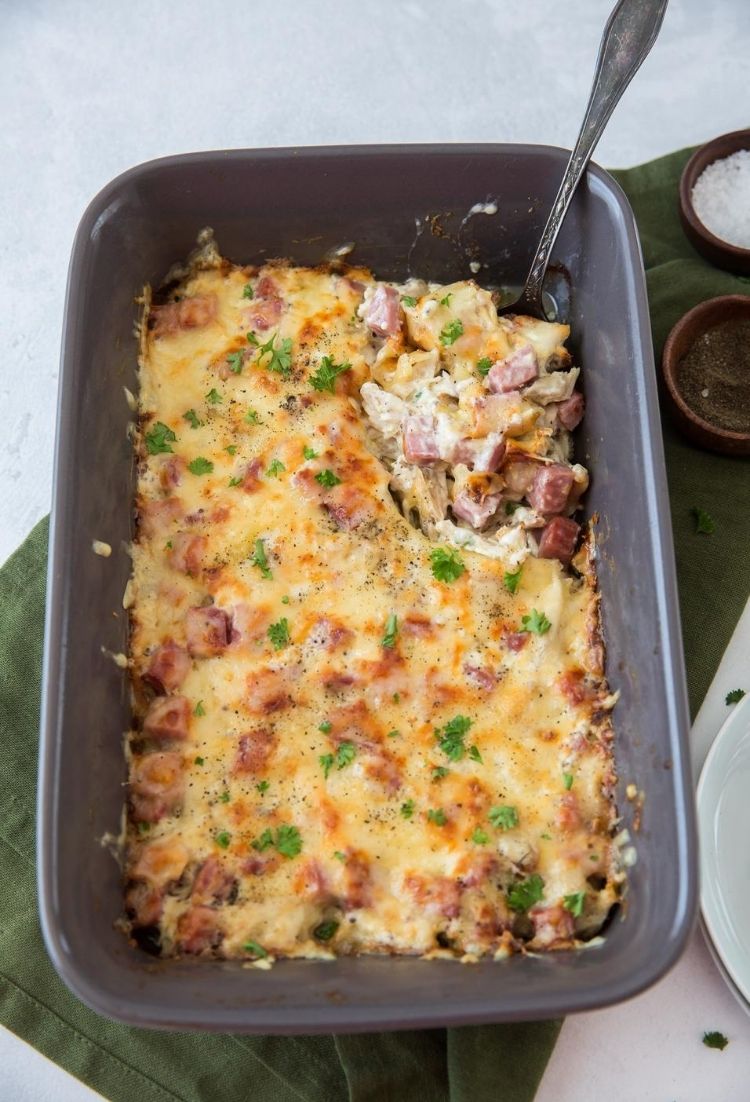 Substitutions for this keto chicken cordon bleu bake
You can replace the white wine with chicken broth, chicken stock or water to make it alcohol free.
If you're not a fan of Swiss cheese try substituting with with gruyere.
If you do not have cream cheese, you can try replacing it with a combination of sour cream and heavy cream.
What to serve with this Easy Chicken Cordon Bleu Casserole
This Chicken Casserole can be enjoyed by itself or you can pair it with low carb vegetables. A great option if you're following a ketogenic diet would be cauliflower, asparagus, or broccoli. If you are looking for a quick low carb side dish, you could always use steamer vegetable bags.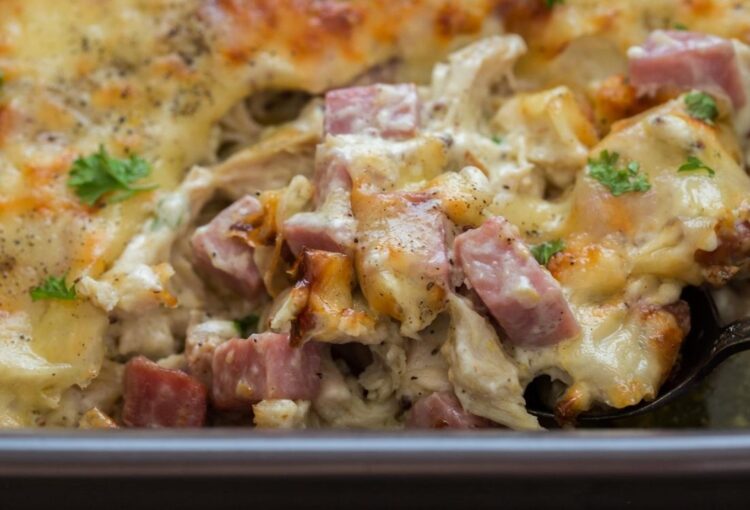 I love making low-carb casseroles like this easy chicken cordon bleu recipe. They're quick and easy to make, you can prep them ahead of time and they're great for meal prep!
You may also like this Cabbage Stir Fry Recipe for meal prep!
More Keto Recipes:
---
---