KETO CARAMEL (3 INGREDIENTS)
Made with only 3 ingredients, this rich and buttery keto caramel sauce is extremely easy to make, sugar-free, and ready in less than 15 minutes. It's a great topping for pancakes, cheesecake, pound cake, apple pie, and coffee drinks
This low-carb sugar-free caramel sauce recipe sauce is a delicious homemade recipe made with 3 simple ingredients that's super easy to make.
It's the best keto caramel sauce I've ever made. I'd dare to say it tastes even better than traditional caramel but with only 1 gram net carbs per tablespoon.
Who doesn't love a delicious caramel topping on desserts? It's definitely the ultimate treat! We prepare this sugar-free caramel sauce quite often because we like to have it on hand in the refrigerator to drizzle it over various desserts.
Is Caramel Keto-Friendly?
If we are talking about those caramel sauces found in stores, we can say that they are not keto because they contain tons of sugar and other preservatives.
Fortunately, you can easily make a sugar-free caramel sauce by changing a few ingredients, and you'll be surprised at how delicious it is!
Watch this quick video to see exactly how easy it is to make sugar-free keto caramel!
Why You'll Love This Keto Caramel Recipe
Ready in only 15 minutes, using only 3 ingredients.
It can be made ahead of time.
Contain only 1g net carbs per serving.
Super rich, buttery, and luxurious.
It can be used in many different recipes.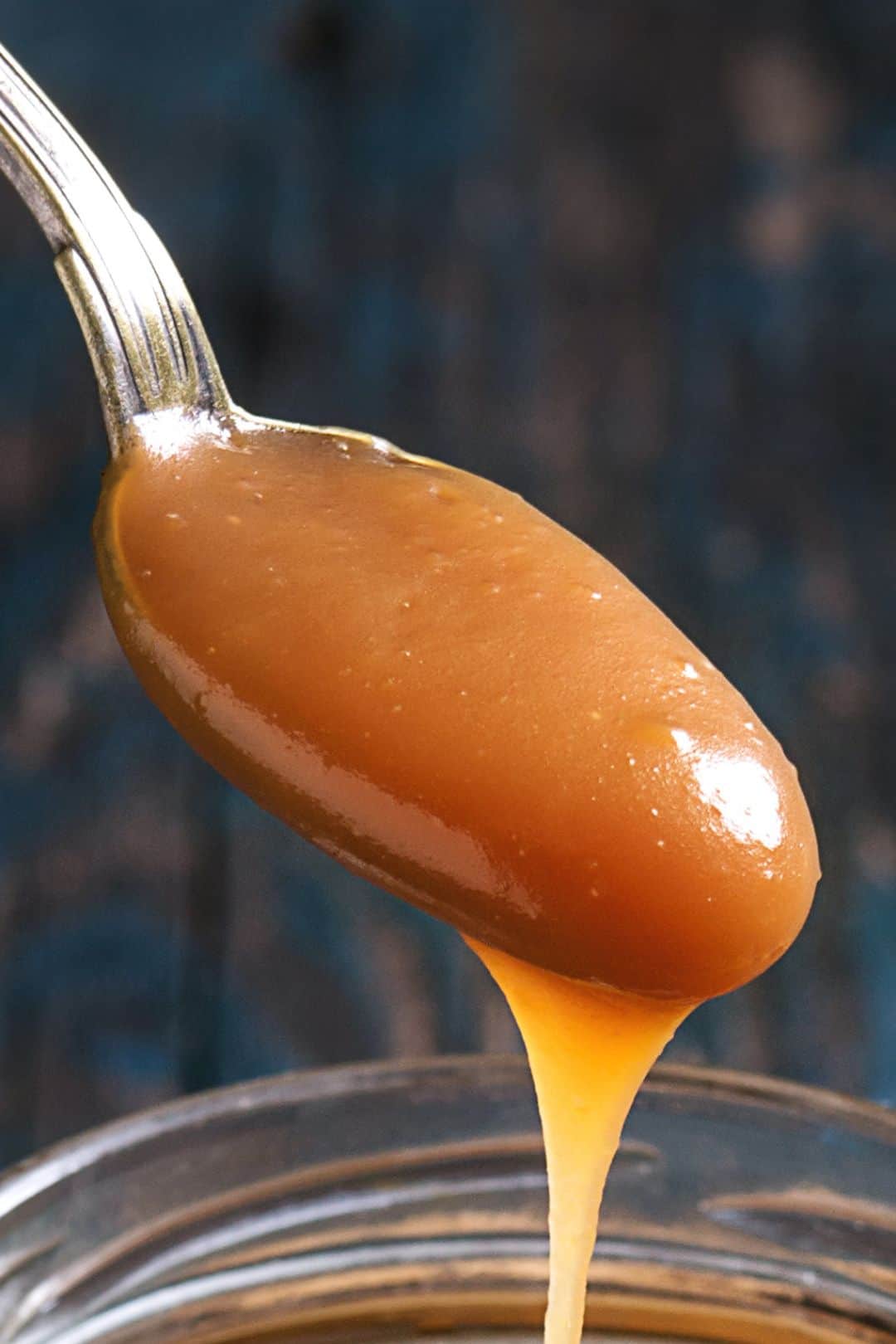 Keto Caramel Ingredients
You will need only 3 ingredients to create this delicious keto caramel that is a game changer. It's perfectly sweet and thick and fantastic to use in tons of desserts. This is everything you will need:
Heavy Cream – Add creaminess to the caramel sauce. I recommend using a quality, unsweetened heavy cream.
Sweetener – use a granulated brown sugar replacement for this recipe. You can also use allulose, which has the same properties as sugar.
Butter – use unsalted softened butter.
How To Make This Keto Caramel
Once will see how easy it is to make your caramel sauce at home, you will never want to buy it from the store. No one can tell this caramel is low carb and sugar-free.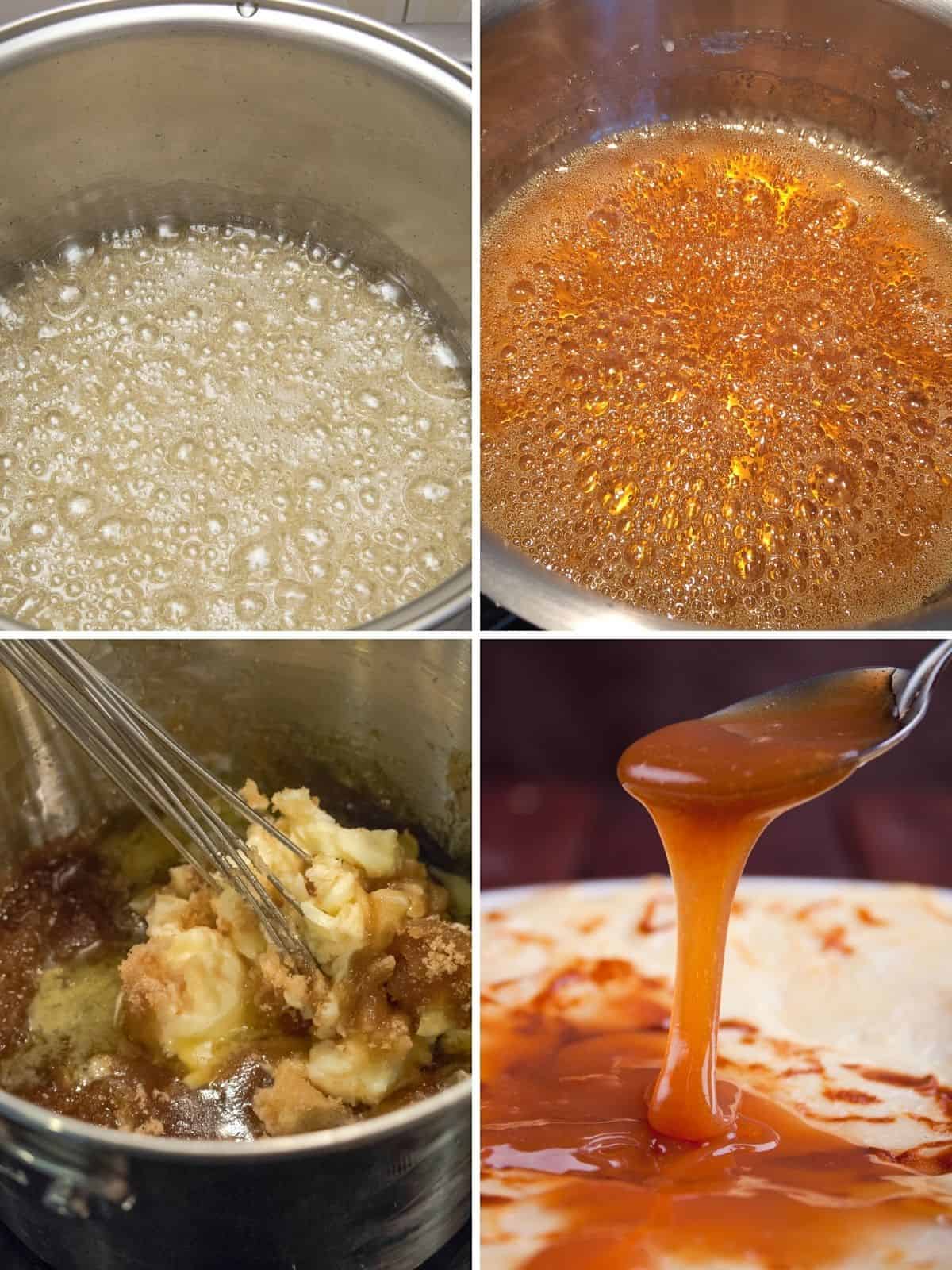 Melt the butter in a small saucepan on medium to low heat. When it is completely melted, add the sweetener and mix until combined.
Continue to stir from time to time for 3-4 minutes.
Add the heavy cream at once and whisk quickly. Lower the heat and continue mixing until a thick sauce forms.
Once the sauce is thick and rich in color, remove it from the heat and transfer it to a jar.
Tips and Variations For Making The Best Keto Caramel
Weigh and prepare all the ingredients so that you have them on hand while preparing the sauce because it may burn quickly.
Even if the sauce seems liquid, let it cool; it will harden as it cools.
Don't burn the sugar; make sure to let it get a rich brown color.
As the caramel is thickening, you may stir in a teaspoon or two of coffee powder to make a coffee-flavored caramel sauce.
You can also add some chopped dark chocolate into the caramel while cooking.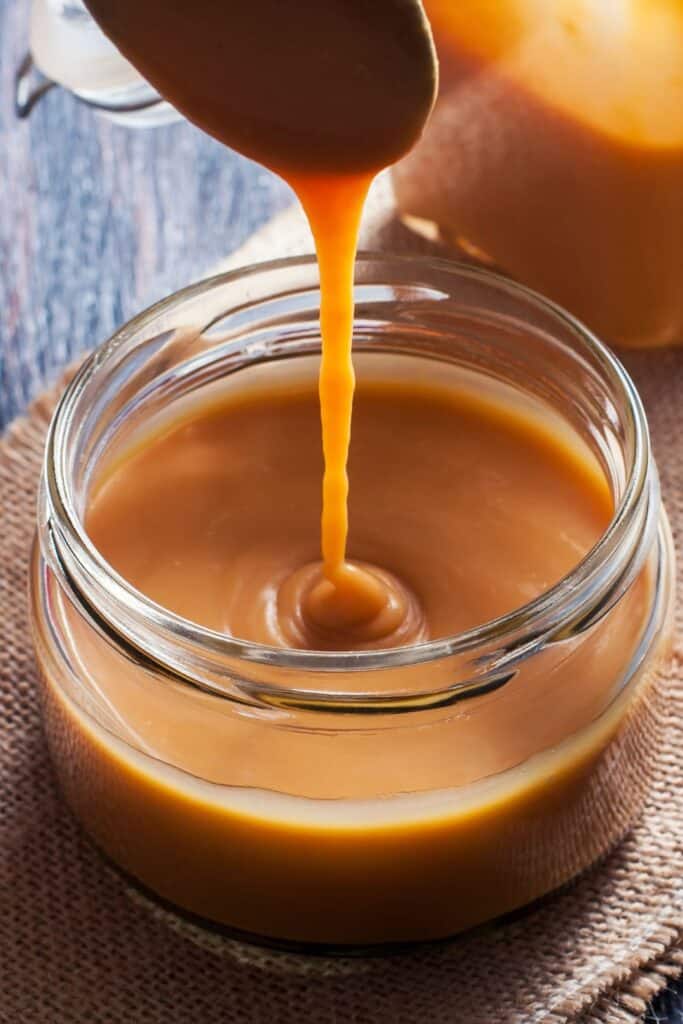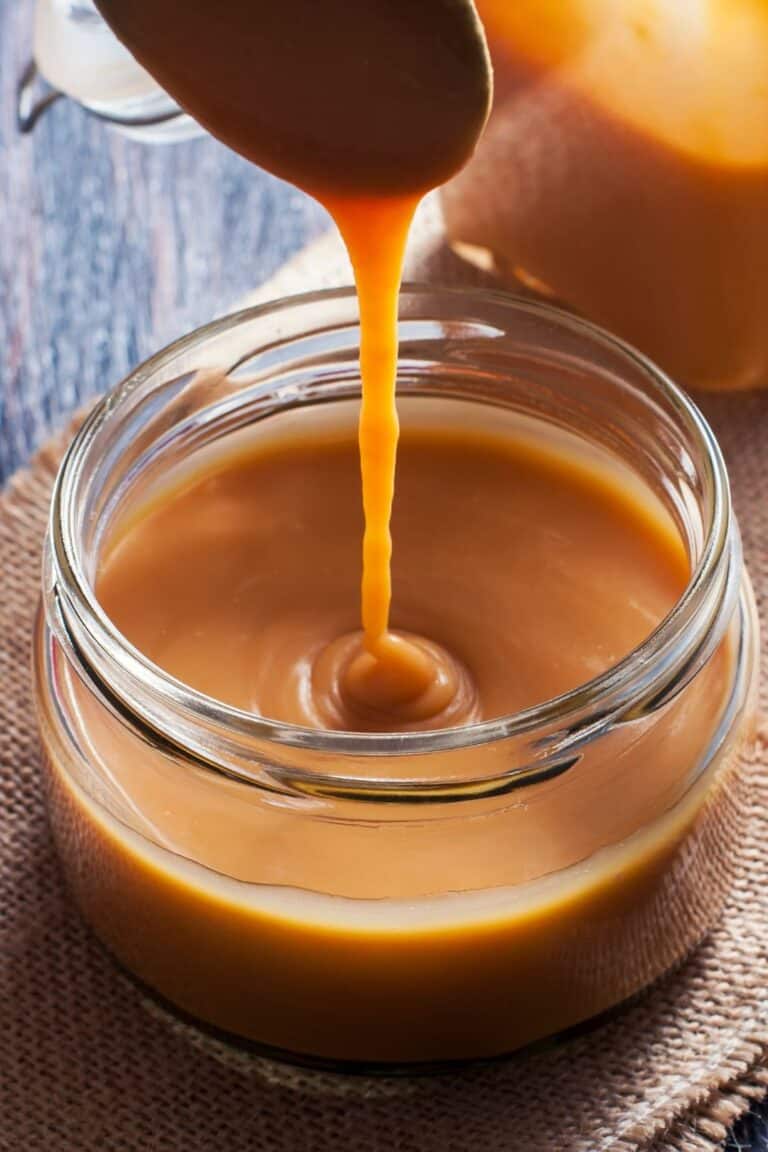 What to Eat with Keto Caramel? 
Keto Caramel sauce is a staple in my pantry, and I love it with recipes like keto cinnamon rolls, cheesecake, keto apple pie, or as a dip for strawberries. Here are some great ideas for using this delicious keto caramel:
You can use it as a topping for your keto cheesecake.
Make some keto brownies or keto blondies and top them with this caramel sauce.
This keto caramel sauce can be used to flavor your bulletproof coffee in the morning or to make a delicious mocha frappuccino.
Storing Ideas
Fridge – You can store the sauce in the fridge in an airtight container for up to two months.
Freezer – You can also freeze the caramel sauce in a freezer-safe container for up to 3 months.
The caramel tends to harden in the fridge, but it reheats well, and you can always enjoy a gooey caramel with a scoop of your favorite keto ice cream. When reheating the sugar-free caramel sauce, make sure to use a low temperature because a high temperature may separate the oils.
Frequently Asked Questions
What Is Caramel Sauce?
Caramel is formed following the process of caramelizing sugar. This process, also known as the Maillard reaction, begins when the sugar reaches a temperature of 170 degrees Celsius. As the sugar is heated, the internal structure of the sugar rearranges, resulting in changes in color and flavor.
How To Obtain A Richer Caramel Flavor?
Letting your caramel sauce sit overnight allows the taste to develop and will make the sauce richer in flavor. Also, you can add some vanilla extract to the sauce for a more intense flavor.
How Can I Make My Caramel Thicker?
Adding more butter is the secret to making caramel sauce thicker.
Caramel Vs. Dulce De Leche
Caramel and dulce de leche differentiate by the method of cooking used. Unlike dulce de leche, which is created by heating milk until the water evaporates and the mixture begins to brown and thicken, caramel is made by cooking sugar until it reaches a deep brown color before mixing it with the other ingredients.
Keto Caramel
Made with only 3 ingredients, this rich buttery keto caramel sauce is extremely easy to make, sugar-free, and ready in less than 15 minutes. It's an excellent topping for pancakes, cheesecake, pound cake, apple pie, and coffee drinks.
Ingredients
⅓

 

cup

 

unsalted butter

2/3

 

cup

 

heavy cream

1/3

 

cup

 

brown sugar sweetener
Instructions
Add the butter to a small saucepan over low heat and stir until completely melted.

Add the sweetener and cook for about 3-4 minutes or until it is completely dissolved. Stir occasionally until reduced golden.

Reduce the heat and add the cream. Stir occasionally for about 8-10 minutes or until the mixture is thick enough to coat the bottom of a spoon. To make keto salted caramel, mix in 1/2 tsp of salt.

Remove from the heat and transfer to a storage jar.
Nutrition
Serving: 
1
tablespoon
 | 
Calories: 
90
kcal
 | 
Carbohydrates: 
0.4
g
 | 
Protein: 
0.4
g
 | 
Fat: 
10
g
 | 
Saturated Fat: 
6
g
 | 
Polyunsaturated Fat: 
0.4
g
 | 
Monounsaturated Fat: 
3
g
 | 
Trans Fat: 
0.2
g
 | 
Cholesterol: 
28
mg
 | 
Sodium: 
4
mg
 | 
Potassium: 
14
mg
 | 
Sugar: 
0.4
g
 | 
Vitamin A: 
352
IU
 | 
Vitamin C: 
0.1
mg
 | 
Calcium: 
10
mg
 | 
Iron: 
0.01
mg
---
---