Keto burger Chaffle with bacon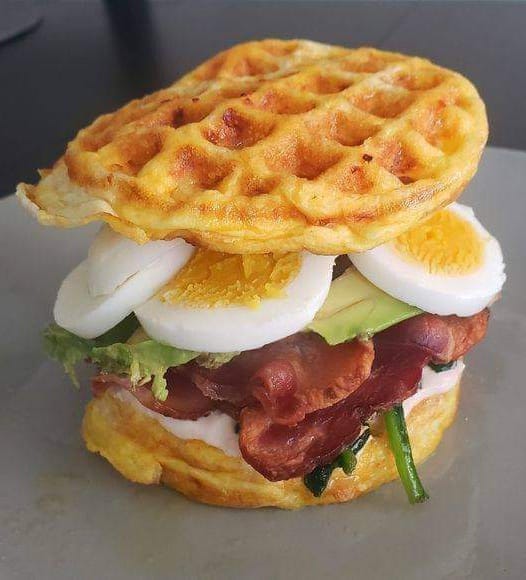 Keto burger Chaffle with bacon, This keto burger recipe is super simple. With only 6 net carb per serve, you are going to love it. For me, the addition bacon was a revelation. It adds so much flavour to the ground meat. Here are just a few of the reasons why I love this recipe so much.
Free Keto Meal Plan : KETO DIET PLAN FOR BEGINNERS STEP BY STEP GUIDE
Ingridient for Keto burger Chaffle with bacon
Chaffle Buns:
3 large eggs
1 cup shredded cheddar cheese
1/4 cup almond flour
1/2 teaspoon baking powder
For the Burgers:
80/20 Ground Beef
1 tablespoon worcestershire sauce
2 teaspoons minced garlic
1/2 teaspoon kosher salt
1/2 teaspoon black pepper
Burger Toppings:
3 slices cheese (any variety)
6 slices thick cut bacon
6 lettuce leaves, romaine or iceberg
3 tomato slices
1/8 cup red onion, thinly sliced
INSTRUCTIONS:
For the Chaffle Buns:
Combine the eggs, shredded cheese, almond flour, baking powder in a mixing bowl until a thick batter forms.
Heat a mini waffle maker according to the directions. Pour the batter in the waffle maker (a scant 1/4 cup) be sure not to overfill (recipe makes 6 waffles).
Cook the waffles about 3 minutes, or until steam stops emitting.
For the Burgers:
Combine the beef, sauce, garlic, salt and pepper in a bowl until the seasonings have been worked in well. Divide the mixture into 3 equal portions.
Use a burger press, or place the patties between parchement paper and flatten until it is about 1/2 inch thick.
Season the outside of the burger with additional salt and pepper (or seasoned salt).
How to grill a burger:
Heat a grill to high heat (400 degrees F). Place the prepared burger patties directly on clean, preheated grill grates. Cook 4 minutes, flip and cook an additional 3-4 minutes. Check the patty for your desired doneness, add cheese and remove from the grill.
To Assemble the Burgers:
Layer the cooked burger patty, cheese, crisp bacon, vegetables on the chaffle buns and enjoy!
NURITIONS:
Free Keto Meal Plan : KETO DIET PLAN FOR BEGINNERS STEP BY STEP GUIDE
| | |
| --- | --- |
| Calories | 730kcal |
| Fat | 59g |
| Carbohydrate | 6g |
| Proteins | 40g |
---
---