Keto Blueberry Donuts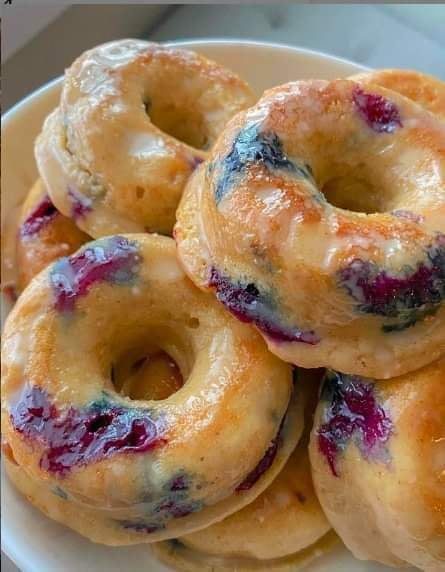 FREE MEAL PLAN : KETO DIET PLAN FOR BEGINNERS STEP BY STEP GUIDE
Keto blueberry donuts. That's right; you read that correctly. These low-carb donuts are bursting with blueberries and the perfect amount of sweetness.
They're topped with a simple glaze for that extra touch that will make your taste buds swoon.
If you're a fan of blueberries like me, you will love this one! It's a keto treat that both adults and children will enjoy.
Packed with good for you blueberries, this recipe for keto blueberry donuts is perfect for breakfast, brunch or anytime you want a healthy snack that needs to be low in carbs and keto-friendly
I like these donuts so much because they taste amazing, and the texture is perfect as well! My keto blueberry cake donuts recipe is easy, anyone can make these at home!
If you tried making keto donuts before and failed, this is the recipe for you! Let me know how it turns out!
Low carb donuts made with coconut flour and dipped in a icing. My kids declared these to be the best keto donuts I have ever made!
Keto Blueberry Donuts
1 1/2 cups of finely milled almond flour
1/2 cup coconut flour
1 ½ teaspoon of baking powder
1/4 teaspoon of sea salt
1/2 cup sugar substitute
1 teaspoon vanilla extract
1/2 cup of full-fat sour cream
3 eggs, room temperature
1 cup of fresh or frozen blueberries
1/4 cup of unsalted melted butter, cooled
Keto Icing
Instructions
Keto Blueberry Donuts
Pre-heat oven to 350 degrees.
Grease well two 6 cavity donut pans.
Melt 1/4 cup unsalted butter melted and set aside.
In a large mixing bowl combine the almond flour, coconut flour, sugar substitute, baking powder, and salt until well combined.
To the dry ingredients add the sour cream, melted butter, vanilla extract and the 3 eggs one at a time.
Mix the batter using an electric mixer until fully incorporated.
Fold in the blueberries. Note that you can use fresh or frozen blueberries for this recipe. If using frozen there is no need to defrost them before adding them to the batter.
Pipe the batter into the two prepared donut pans. I added the batter to a large zip lock bag that I cut the tip of and then piped the batter into the donut pan cavities.
I lightly tapped the batter into the donut pans using my fingers.
Note that you will be filling the donut pans just to the rim because these donuts do not rise much.
Bake donuts for minutes for 25-30 minutes until donuts are fully cooked and you can insert a toothpick and it comes out clean.
Allow the Keto Donuts to fully cool at room temperature before taking them out of the mold.
Once the donuts are removed from the donut mold, place them on a baking rack and proceed to make the icing.
Keto Icing
Melt the butter and add to a medium-sized bowl.
To the bowl the confectioners, sugar substitute, vanilla extract, and sea salt.
Mix well and then add the hot water. Start with 3 tablespoons and add the additional tablespoon if the consistency is too thick.
Quickly dip the donuts into the icing and set them on a baking rack to dry. The donuts will form a thin frosted shell on the surface.
Store Your Donuts
Once the keto blueberry donuts icing has had time to set, store them in the refrigerator in a sealed container for up to 5 days. You can place the donuts on top of each other since the icing hardens. You can also freeze your donuts by placing them in a freezer-proof container for up to 3 weeks.
Allow your donuts to come to room temperature for the best flavor.
Nutrition Information:
YIELD: 12 SERVING SIZE: 1 Amount Per Serving: CALORIES: 285 TOTAL FAT: 26g SATURATED FAT: 13.6g CHOLESTEROL: 40mg SODIUM: 24mg CARBOHYDRATES: 10.5g NET CARBOHYDRATES: 5g FIBER: 5g SUGAR: 1.9g PROTEIN: 8.2g
FREE MEAL PLAN : KETO DIET PLAN FOR BEGINNERS STEP BY STEP GUIDE
---
---