Keto and Low-Carb One-Pot Chicken Burrito Bowls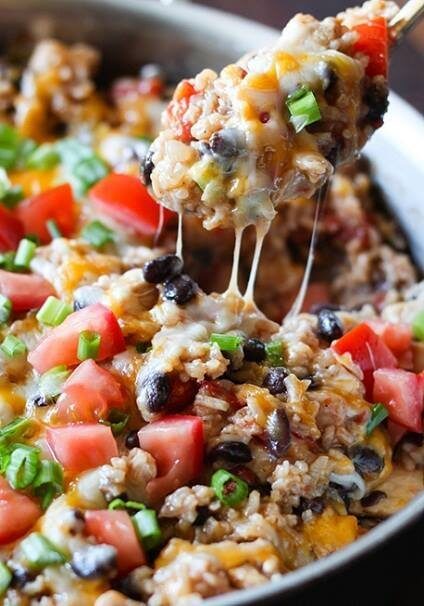 FREE MEAL PLAN : KETO DIET PLAN FOR BEGINNERS STEP BY STEP GUIDE
Ingredients:
1 pound boneless, skinless chicken breasts, diced into bite-sized pieces
3 tablespoons of olive oil
1/4 cup of diced yellow onion
1 cup of cauliflower rice (instead of regular rice)
1-14.5 oz can of diced tomatoes, drained
1-15 oz can of black beans, drained and rinsed (or use black soybeans for a lower-carb option)
1/2 teaspoon of garlic powder
1/2 teaspoon of chili powder
1 teaspoon of cumin
2-1/2 cups of low-sodium chicken broth
2 cups of shredded colby jack, monterey jack, or cheddar cheese
Kosher salt and black pepper
Freshly diced tomatoes
Diced green onions
Sour cream (use full-fat for keto)
Guacamole
Directions:
Step 1: Start by sautéing onions in 2 tablespoons of olive oil until they start to soften.
Step 2: Season diced chicken with 1 teaspoon of kosher salt and 1/2 teaspoon of black pepper. Add the chicken to the pan and cook over medium-high heat until the chicken has started to brown.
Step 3: Move the chicken to one side of the pan. In the other side of the pan, add an additional tablespoon of olive oil and sauté cauliflower rice for about 2 minutes or just until some grains start to turn golden brown.
Step 4: Stir in black beans (or black soybeans for a lower-carb option), canned tomatoes, chicken broth, garlic powder, chili powder, and cumin.
Step 5: Bring to a simmer, cover, and reduce heat to low. Cook about 20 minutes or until the cauliflower rice is tender. Season with additional salt and pepper as needed.
Step 6: Sprinkle with cheese, cover, and let it sit for 2-3 minutes off the heat to melt the cheese.
Step 7: Garnish with freshly diced tomatoes, diced green onions, sour cream (use keto-friendly options), and guacamole.
Nutrition Information (approximate, per serving, assuming 4 servings):
Calories: 420
Total Fat: 26g
Total Carbohydrates: 12g
Dietary Fiber: 6g
Net Carbs: 6g
Protein: 32g
FREE MEAL PLAN : KETO DIET PLAN FOR BEGINNERS STEP BY STEP GUIDE
---
---