1 Minute Low Carb Brownie (No eggs!).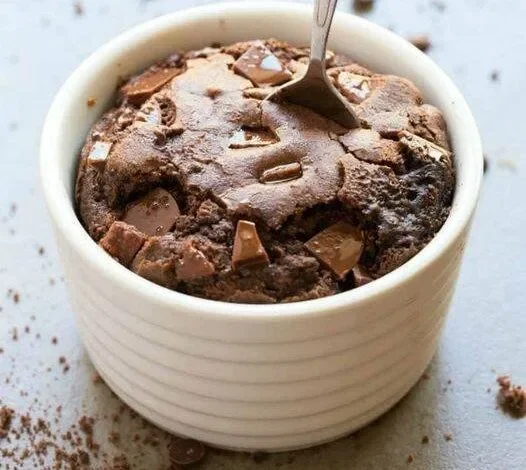 FREE MEAL PLAN : KETO DIET PLAN FOR BEGINNERS STEP BY STEP GUIDE
A moist, gooey and fluffy chocolate brownie ready in less than one minute and completely low carb too! Made with no butter, oil, grains or sugar, this healthy single serving mug brownie is paleo, vegan, gluten free, keto, sugar free, low calorie, dairy free and has a tested oven option!
Course: Dessert
Cuisine: American
Prep Time: 2 minutes
Cook Time: 1 minute
Total Time: 3 minutes
Servings: 1 brownie
Calories: 196kcal
Ingredients
2 tablespoon almond flour
1 tablespoon granulated sweetener of choice
1 tablespoon cocoa powder
1/8 teaspoon baking powder
1 tablespoon almond butter * See notes
3 tablespoon milk of choice I used unsweetened almond milk
1 tablespoon chocolate chips of choice Optional
Instructions
Lightly grease a small microwave safe cereal bowl or ramkin with cooking spray and set aside.
In a small mixing bowl, combine all your dry ingredients and mix well.
In a seperate bowl, combine your smooth almond butter with milk and whisk together. Combine your wet and dry ingredients and mix well. If using chocolate chips, fold them through.
Microwave in 30-second intervals until desired texture is achieved. Remove from the microwave and let sit for one minute, before enjoying.

FREE MEAL PLAN : KETO DIET PLAN FOR BEGINNERS STEP BY STEP GUIDE

Oven Instructions

Preheat the oven to 180C/350F. Grease a 6 inch oven-safe ramekin. Prepare your brownie batter before transferring to the greased ramekin. Bake for 6-8 minutes, or until desired texture is achieved. Remove from oven and let cool for one minute, before enjoying.

Notes

You can use any smooth nut or seed butter.

This keto mug brownie is eggless, so undercooking it isn't an issue at all- You'll be left with a gooey brownie.

If you love low carb brownies, you'll love flourless keto brownies, fudgy keto brownies, and walnut brownies.

Nutrition

Serving: 1brownie | Calories: 196kcal | Carbohydrates: 8g | Protein: 8g | Fat: 17g | Sodium: 122mg | Potassium: 202mg | Fiber: 6g | Calcium: 173mg | Iron: 2mg | NET CARBS: 2g

FREE MEAL PLAN : KETO DIET PLAN FOR BEGINNERS STEP BY STEP GUIDE
---
---