WWWW Glory Baked Oatmeal with Pineapple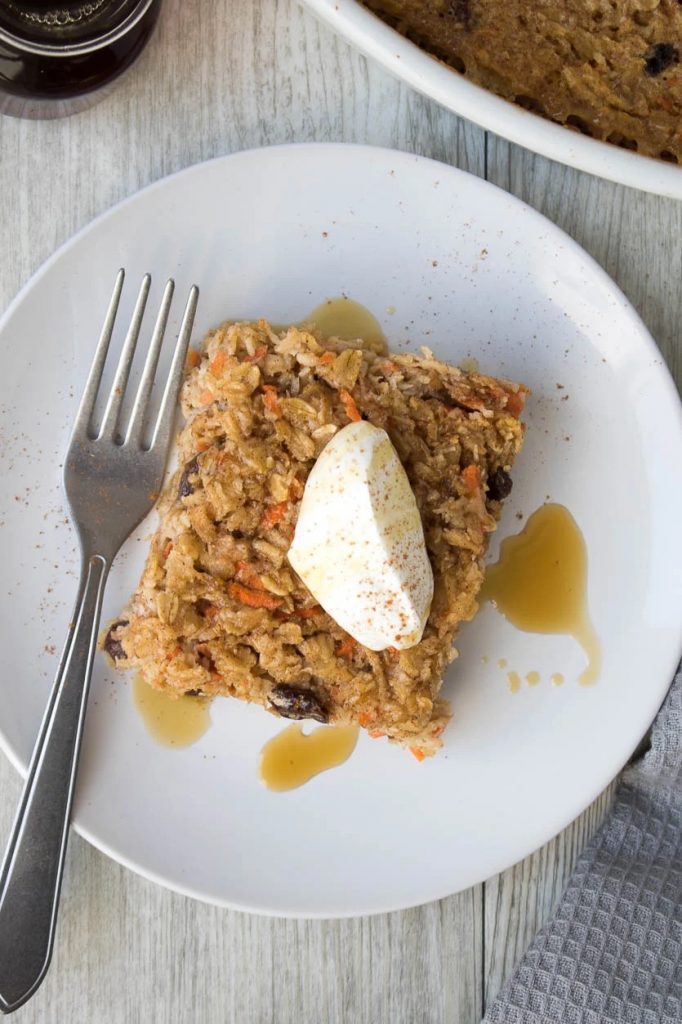 4 cups (320g) of old-fashioned oats
1 ½ cups (360mL) unsweetened vanilla almond milk
2 cups (492g) of unsweetened applesauce
4 large eggs
½ cup (120mL) sugar-free pancake syrup
1 Tablespoon pure vanilla extract
1 teaspoon coconut extract
1/3 cup Stevia (or sweetener of choice)
2 tablespoons cinnamon
1 teaspoon baking powder
1 teaspoon ginger
½ teaspoon salt
6 ounces (about 17 baby) carrots, grated
1 pound apples (3 small), grated (don't peel)
47g Raisins
Pineapple "frosting":
8 ounces nonfat Greek yogurt
6 tablespoons (90mL) sugar-free pancake syrup
¼ teaspoon pure vanilla extract
¼ teaspoon coconut extract
20 oz. can crushed* pineapple in 100% juice, drained well
Optional Garnish (per serving):
5g Fat-Free Reddi Wip
2g chopped walnuts
Instructions
Preheat the oven to 350 degrees.
Spray a 9" x 13" glass baking dish with cooking spray.
In a mixing bowl, combine oats, milk, applesauce, eggs, syrup, vanilla extract, coconut extract, Stevia, cinnamon, baking powder, ginger, and salt.
Stir in carrots, apples, and raisins.
Pour into the prepared baking dish.
Bake for 40 minutes or until set and lightly brown.
Serve warm or cold with glaze.
Store in refrigerator for up to one week.
For the glaze, stir all ingredients together in a bowl.
Cover and refrigerate.
I reheat each piece in the microwave on HIGH for 30 seconds.
Top warm oatmeal with a couple of spoonfuls of glaze…the glaze will melt.
Garnish with fat-free Reddi Wip and chopped walnuts if desired.
Notes
Serves 8 (could easily be 12)
1/8 is 1 Point
---
---