Sausage and Cream Cheese Stuffed Jalapenos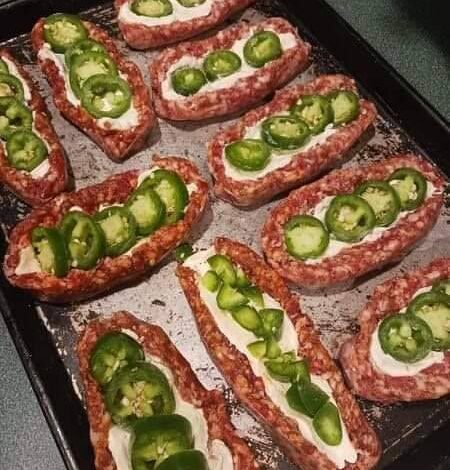 FREE MEAL PLAN : KETO DIET PLAN FOR BEGINNERS STEP BY STEP GUIDE
Sausage and Cream Cheese Stuffed Jalapenos
Ingredients
16 jalapeno peppers
1 pound of grass-fed pork sausage
8 ounces of grass-fed cream cheese, softened
1 cup of grass-fed shredded cheddar cheese
1/4 cup of grass-fed bacon crumbles
4 cloves of garlic, minced
Salt and pepper to taste
Directions
Preheat oven to 350 degrees F.
Cut the jalapeno peppers in half lengthwise and remove the seeds and membranes. Place them on a baking sheet lined with parchment paper or sprayed with cooking spray.
In a large skillet over medium-high heat, cook the sausage, breaking it up with a spatula, until browned and cooked through. Drain the excess fat.
In a large bowl, stir together the cream cheese, cheddar cheese, bacon crumbles, garlic, salt and pepper until well combined.
Spoon about a tablespoon of the cheese mixture into each jalapeno half, pressing it lightly to fill the cavity.
Bake for 15 to 20 minutes or until the peppers are tender and the cheese is melted and bubbly.
Enjoy hot or warm.
The nutrition (16 servings) is:
Per serving:
Calories: 227 kcal
Carbs: 2 g
Fiber: 1 g
Net carbs: 1 g
Fat: 20 g
Protein: 11 g
FREE MEAL PLAN : KETO DIET PLAN FOR BEGINNERS STEP BY STEP GUIDE
---
---