Keto Philly Steak Wraps⁠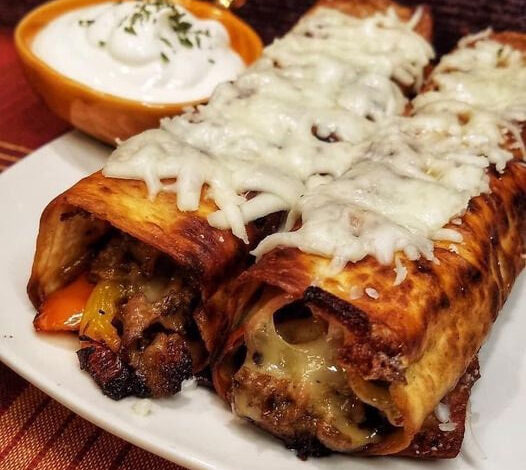 FREE MEAL PLAN : KETO DIET PLAN FOR BEGINNERS STEP BY STEP GUIDE
Philly Cheese Steak Wraps are a great low carb breakfast solution for leftover steak or deli roast beef.
PREPRATION TIME:
Prep Time: 10 minutes
Cook Time: 15 minutes
Total Time: 15 minutes
Servings: 4 Calories: 445 kcal
Ingredients:
4 Almost Zero Carb Wraps
8 oz thinly sliced left over steak or deli roast beef
1 medium green bell pepper cut into strips
4 oz sliced button mushrooms
1/2 small onion, sliced into 1/4-inch rounds
2 tbsp butter or olive oil
1 tbsp Worcestershire sauce
4 slices Provolone cheese
Instructions:
Place a large non-stick frying pan over medium heat.
Slice the bell pepper and onion. Set aside.
Over medium heat, saute the onions for 1-2 minutes until they begin to soften. Add the mushrooms and stir to coat them with the butter. Let them cook for 2 minutes on one side, then stir. Add the peppers, mixing thoroughly. Cook for 1-2 minutes, stirring occasionally.
Turn off the heat and add the steak or roast beef and Worcestershire sauce – off heat , then stir to heat through. Taste and season with salt and pepper. Remove the Philly steak mixture from the pan.
Heat 2 wraps in the pan. Add 1/4 of the cheese steak mixture to each wrap and top each with a slice of cheese. Cover with a lid or foil for 1 minute. If the cheese hasn't melted, drizzle 1 tablespoon of water into the pan and cover to steam for 30 seconds to 1 minute. Fold them over and serve. Repeat the procedure with the remaining two wraps and remaining ingredients
Notes:
Nutrition Facts Philly Cheese Steak Wraps Amount Per Serving Calories 445Calories from Fat 288% Daily Value* Fat 32g 49% Carbohydrates 3g 1%Fiber 1g 4%Protein 28g56%* Percent Daily Values are based on a 2000 calorie diet.
Nutrition:
Calories: 445kcal | Carbohydrates: 3g | Protein: 28g | Fat: 32g | Fiber: 1g
FREE MEAL PLAN : KETO DIET PLAN FOR BEGINNERS STEP BY STEP GUIDE
---
---