KETO OMG BARS! BOTTOM LAYER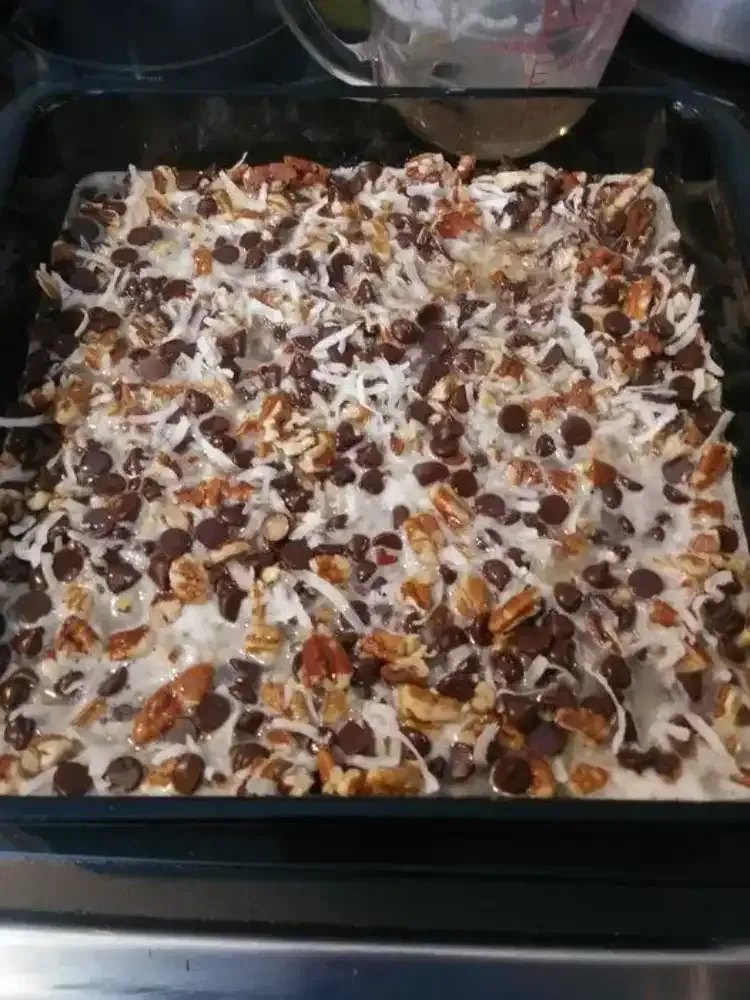 KETO OMG BARS! BOTTOM LAYER
• 1 cup almond flour
• 1/4 teaspoon baking powder
• 1/4 teaspoon salt
• 1 egg
• 2 tablespoons butter, melted
Sauce
• 1/2 cup erythritol
• 1/2 cup butter, melted
• 1/2 cup heavy whipping cream
• 6 drops liquid flavored stevia(toffee, caramel, etc.. – you choose!!)
• 1/2 teaspoon vanilla
• 1/4 teaspoon salt
Top Layer
• 2 cups Lily's dark chocolate chips
• 1 cup shredded unsweetened coconut
• 1 cup pecans, chopped
Instructions
Bottom Layer
1. Preheat oven to 300 degrees F.
2. Mix almond flour, baking powder and salt in a medium bowl.
3. Add beaten egg and melted butter and mix well.
4. Put the dough onto a parchment paper layered sheet.
5. Roll out to approximately 8×8 (slightly larger if needed). The easiest way to do this is to layer another piece of parchment paper on top of the dough and use a rolling pin. I ended up using my hands to do the final touches.
6. Remove top layer of parchment paper and bake for 35 minutes or until golden.
7. Let cool before adding additional layers.
Sauce
1. Raise oven temperature to 375 degrees F.
2. Place butter in sauce pan and melt over medium heat. Add erythritol, whisk and boil for 5 minutes. Stir often.
3. Around 5 minutes, mixture should start to darken in color. That is when it is done.
4. Add heavy whipping cream, salt, vanilla and liquid stevia. Stir well!
5. Using a sharp knife, trim edges of base layer and then place into 8×8 glass pan.
6. Pour 1/2 of the sauce onto the base layer. Save the rest.
Top layer
1. In a medium bowl, mix pecans, chocolate chips and coconut. Pour into glass pan over the bottom layer evenly.
2. Pour remaining sauce over the top.
3. Bake for an additional 5 minutes.
4. Cool in fridge to set, then cut and serve (unless of course you want to serve it warm.
---
---