Keto No Bake Classic Woolworth Cheesecake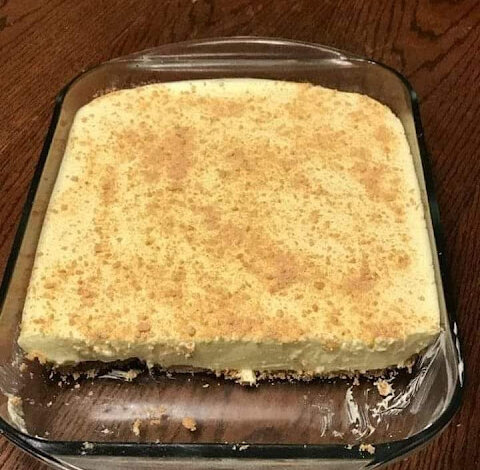 FREE MEAL PLAN : KETO DIET PLAN FOR BEGINNERS STEP BY STEP GUIDE
Ingredients
1 3oz sugar free lemon Jell-0
1 cup boiling water
3 cups pecan or almonds(ground) — more for thicker crust divided
1 stick melted butter
1 8oz cream cheese
1 cup granulated sugar substitute
5 tbsp lemon juice
1 ½ cups heavy whipping cream
Instructions
In a small bowl, stir the Jell-0 and boiling water until dissolved. Set aside to cool slightly.
In a medium bowl, toss 2 cups of ground nuts and melted butter until well combined. Press the mixture into the bottom of a 9×13 inch baking dish. Refrigerate until set.
In a large bowl, whip the cream cheese, sugar substitute and lemon juice with an electric mixer until smooth and creamy.
In another bowl, beat the heavy cream with an electric mixer until stiff peaks form. Gently fold the whipped cream into the cream cheese mixture.
Spoon the filling over the crust and smooth the top. Sprinkle the remaining 1 cup of ground nuts over the filling.
Refrigerate for at least 4 hours or overnight. Cut into squares and serve chilled. Enjoy!
Nutrition per serving (based on 16 servings):
Calories: 326
Fat: 32.4 g
Protein: 5.2 g
Carbs: 6.2 g
Fiber: 2 g
Net carbs: 4.2 g
FREE MEAL PLAN : KETO DIET PLAN FOR BEGINNERS STEP BY STEP GUIDE
---
---