Keto Best Homemade Fried Donuts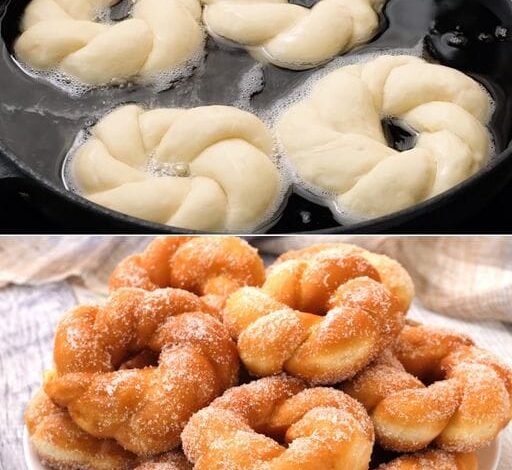 FREE MEAL PLAN : KETO DIET PLAN FOR BEGINNERS STEP BY STEP GUIDE
Ingredients:
For the donuts:
1 cup almond flour
1/4 cup coconut flour
1/4 cup granulated erythritol (or your preferred keto-friendly sweetener)
1 teaspoon baking powder
1/4 teaspoon salt
3 large eggs
1/4 cup unsweetened almond milk
1 teaspoon vanilla extract
2 tablespoons melted butter or coconut oil
For frying:
Avocado oil or coconut oil for frying (enough for about 2 inches in your frying pan)
Instructions:
Prepare the Donut Batter:

In a mixing bowl, whisk together the almond flour, coconut flour, erythritol, baking powder, and salt.
In a separate bowl, beat the eggs, then add almond milk, vanilla extract, and melted butter or coconut oil. Mix well.
Gradually add the wet ingredients to the dry ingredients and mix until you have a smooth batter.

Heat the Oil:

In a deep frying pan or a pot, heat your chosen frying oil over medium heat until it reaches 350°F (175°C). Use a kitchen thermometer to monitor the temperature.

Shape and Fry the Donuts:

Spoon the donut batter into a piping bag or a resealable plastic bag with a corner snipped off. This will make it easier to shape the donuts.
Carefully pipe the batter into the hot oil, forming donuts. Be cautious not to overcrowd the pan, as this can affect the cooking process.
Fry the donuts for about 2-3 minutes on each side, or until they are golden brown and cooked through. Use a slotted spoon to gently flip the donuts as needed.

Drain and Cool:

Once the donuts are cooked, remove them from the oil and place them on a paper towel-lined plate to drain any excess oil.

Optional Toppings:

For a classic touch, you can roll the donuts in a mixture of granulated erythritol and cinnamon while they are still warm.

Enjoy:

Allow the donuts to cool slightly before enjoying. The donuts are best when served fresh, but you can store any leftovers in an airtight container for a day or two.
These Keto Best Homemade Fried Donuts are the perfect way to satisfy your donut cravings while staying true to your low-carb lifestyle. With their delightful flavor and fluffy texture, you won't believe they're keto-friendly
Nutrition Information (Per Donut, Recipe Makes About 10 Donuts):
Calories: Around 130 calories
Total Fat: Approximately 11g
Saturated Fat: About 3g
Trans Fat: 0g
Cholesterol: Around 63mg
Sodium: Approximately 160mg
Total Carbohydrates: About 5g
Dietary Fiber: Approximately 2g
Total Sugars: Around 1g
Erythritol (or Sweetener): About 2g (this varies depending on the brand and type of sweetener used)
Protein: Approximately 4g

FREE MEAL PLAN : KETO DIET PLAN FOR BEGINNERS STEP BY STEP GUIDE
---
---