Crispy Ham Rolls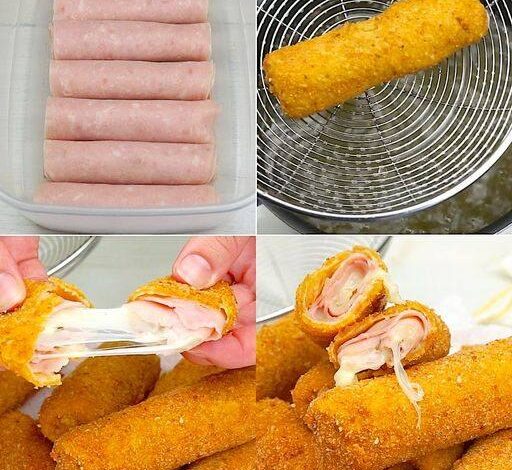 FREE MEAL PLAN : KETO DIET PLAN FOR BEGINNERS STEP BY STEP GUIDE
Ingredients:
Slices of high-quality ham (look for ones with minimal additives and sugar)
Cream cheese (full-fat)
Thinly sliced vegetables (such as cucumber, bell peppers, or spinach leaves)
Optional: herbs and spices like dill, chives, or black pepper
Toothpicks or small skewers for securing the rolls
Instructions:
Prepare the Ingredients: Wash and slice your chosen vegetables into thin strips. If you're using herbs, finely chop them.
Spread Cream Cheese: Lay out a slice of ham on a clean surface. Spread a thin layer of cream cheese over the ham. You can add a sprinkle of herbs or spices at this point if desired.
Add Vegetables: Place a few strips of your chosen vegetables along one edge of the ham slice. Make sure not to overstuff, as this can make rolling difficult.
Roll the Ham: Gently start rolling the ham slice from the edge with the vegetables, continuing to roll it up tightly. The cream cheese will help keep everything in place.
Secure with Toothpick: Once the ham is rolled up, insert a toothpick or small skewer through the roll to hold it together. You can cut the roll in half for smaller portions if desired.
Repeat: Repeat the process with the remaining ham slices, cream cheese, vegetables, and optional herbs/spices.
Serve and Enjoy: Arrange the crispy ham rolls on a serving plate and enjoy as a tasty keto-friendly
snack.
Per Ham Roll (with cream cheese and vegetables):
---
---