CREAMY CHICKEN FAJITA CASSEROLE – LOW CARB, KETO FRIENDLY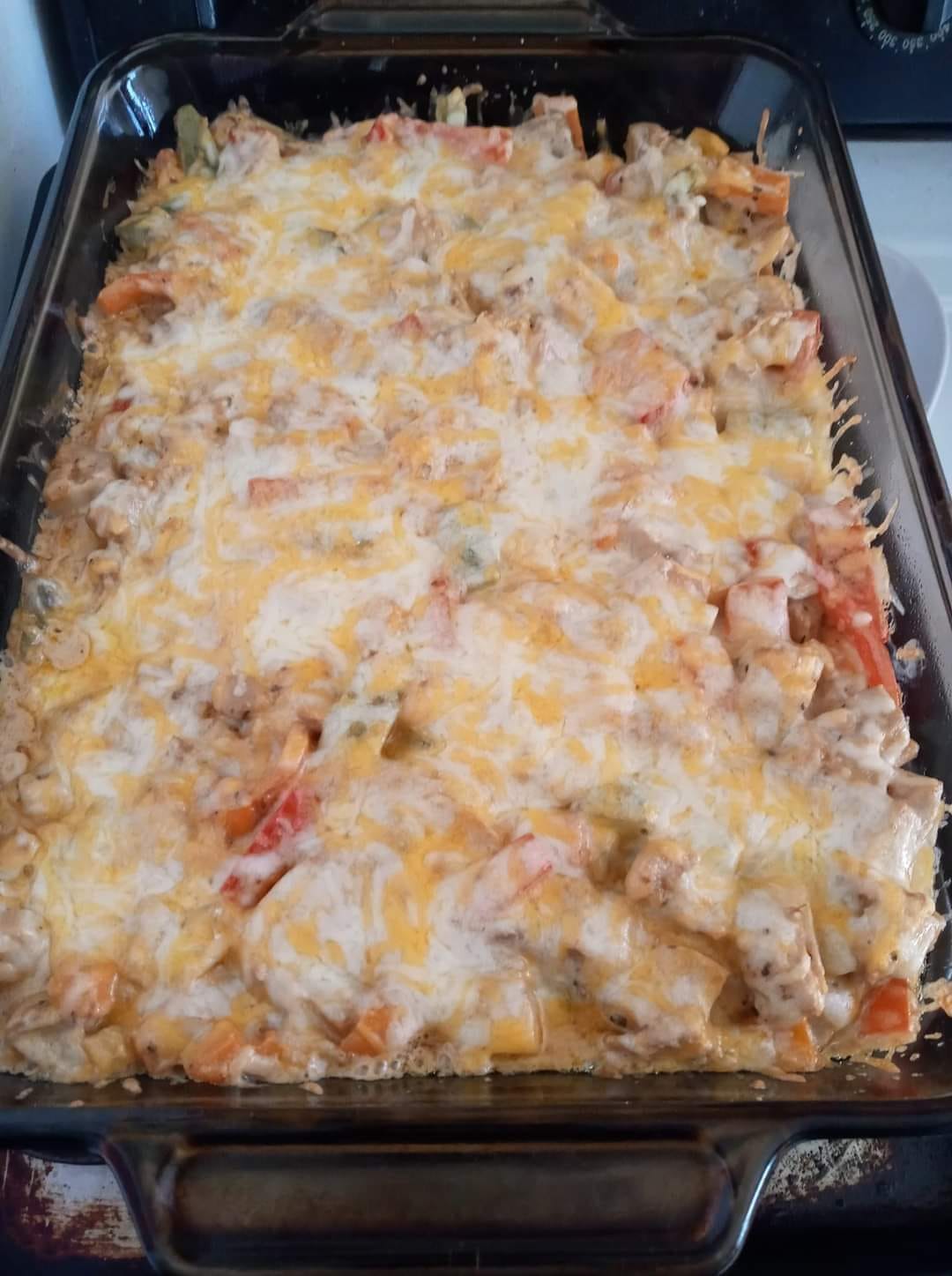 Chicken fajita casserole is an easy healthy, but quick meal idea! This is the perfect dish to switch things up on Taco Tuesday. The best part of this recipe is that it is perfect for the keto diet, as no tortillas are needed!
INGREDIENTS
3 chicken breast
2 bell peppers, with seeds remove and sliced into strips (I used 1 red and 1 green)
1 half of a large onion, sliced into strips
1/4 cup canned diced tomatoes and green chilies (I used Rotel)
2 tablespoons taco seasoning, divided
1 cup shredded cheese, divided (Feel free to use different cheeses. I used cheddar and Monterrey jack)
8 oz cream cheese, softened
1/4 cup heavy cream
INSTRUCTIONS
Preheat oven to 350 degrees.
Season the chicken breast lightly with salt and pepper, and then bake for 20 – 25 minutes (until no longer pink in the center).
While the chicken is baking, saute the bell peppers, onion, and diced tomatoes and green chiles in a greased skillet. Cook the vegetables until they are tender, and then set them aside in a large bowl.
Remove the chicken from the oven, and allow it to cool. Then, chop the chicken into bite-sized chunks and add it to the same bowl as the peppers and onions.
Season the chicken and vegetables evenly with 1 tablespoon of taco seasoning.
Add 1/2 of the shredded cheese, all of the cream cheese, and the heavy cream to the bowl with the chicken and peppers. Mix everything until combined. Then, add the remaining taco seasoning and stir everything again until combined.
Arrange the mixture into a casserole dish, and top with the remaining shredded cheese. Bake in the oven at 350 degrees for 30 – 35 minutes.
NUTRITION INFORMATION:
YIELD: 12 SERVING SIZE: 1
Amount Per Serving: CALORIES: 191TOTAL FAT: 13gSATURATED FAT: 7gTRANS FAT: 0gUNSATURATED FAT: 4gCHOLESTEROL: 60mgSODIUM: 254mgCARBOHYDRATES: 6gNET CARBOHYDRATES: 5gFIBER: 1gSUGAR: 3gPROTEIN: 13g
---
---